DigitalTown, Inc. (OTC PINK: DGTW) today announced that it has acquired more than 11,000 .CITY domains for use with an international rollout of the DigitalTown's flagship Smart City Platform and the Global Smart City Network.
The announcement occurs on the eve of the US Mayors conference from June 24-27 in Indianapolis, leading up to International City/County Management Association (ICMA) annual meeting September 25-28, 2016 in Kansas City, and the Global Smart City Expo November 15-17 in Barcelona Spain.
The .CITY domain extension is part of the new generation of intuitive "Smart Web" navigation extensions approved by ICANN, the global domain name industry regulator. The .CITY domain extension is the ideal extension for city information. DigitalTown has assembled the world's largest portfolio of .CITY domains that exactly match to many of the largest population centers around the world as well as to the majority of the cities across the United States.

The network of .CITY domains are being made available to cities as part of a global network of public-private partnerships utilizing the DigitalTown SmartCity platform.
Rob Monster, CEO of DigitalTown commented on the initiative saying, "The DigitalTown SmartCity platform is an ideal framework for enabling any city to become a Smart City. At the same time, DigitalTown is leading the dialog with international stakeholders in the architecture of the 'Smart Web'. The highly intuitive .CITY web navigation standard will allow residents and visitors of any city to easily connect to latest information, either through web or mobile devices."
The 11,000+ domain names were registered with Epik registrar, whose CEO is again Rob Monster. .City New gTLD now has over 30,000 registered domains up from about 18,500 last month.
The .CITY domain extension is managed by Donuts, Inc., the largest registry for new domain extensions, led by Paul Stahura, who previously founded and led the eNom registrar.
"The introduction of new domain extensions was meant to encourage innovations in the Internet namespace like this one," Stahura said. "DigitalTown's use of .CITY for this digital platform is an intuitive way for citizens and visitors to find information that's relevant to them, and for cities to expand their outreach."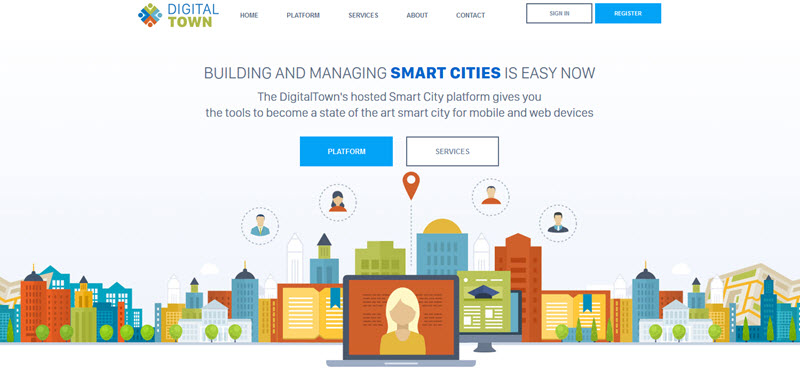 DigitalTown aims to "empower cities to become Smart Cities by leveraging existing technology to help cities lower costs, gain efficiencies and improve civic engagement, resulting in thriving local economies, enhanced community interaction, and real-time access to the growing number of Smart City services that are being introduced in local communities around the world."
Chris Maxwell, Chief Technical Officer of DigitalTown added, "By 2020, there will be at least fifty billion things connected to the Internet. These 'things' are sensors, meters, cameras, lights, gauges, and other hardware that will produce and transmit data to create an 'Internet of Things'. DigitalTown aims to make this greatly expanded Internet highly usable for consumers. The .CITY domain, as part of a Smart Web, is an integral part of this exciting phase of Internet innovation."