We are almost 4 years into the New gTLD program and domain name registrations have fallen below the 20 million mark.
These are the domain name registrations that according to NameStat.org are in the zone files. These are the domain names that can potentially resolve, i.e. the domains have nameservers attached to them AND are not in a status that prevents them from resolving, such as a client hold or a pending delete status. (Real number might be 2-3% higher as not all domains with a normal status have nameservers.)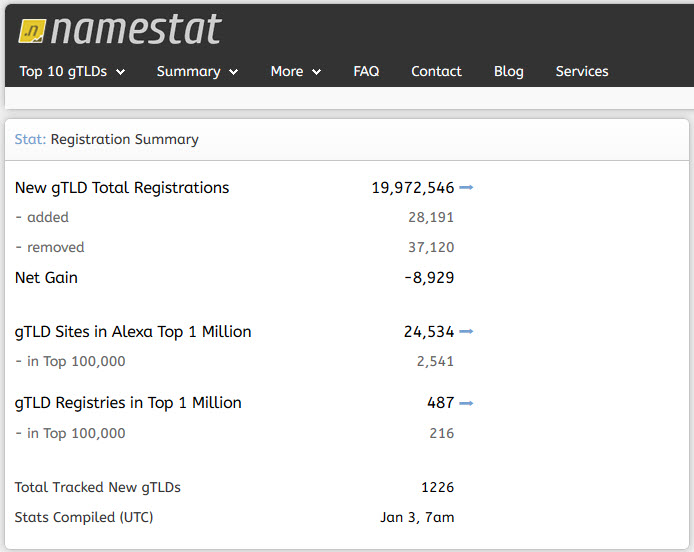 ntldstats.com counts the numbers differently and has New gTLDs at 23,683,196 today but with 2,562,541 upcoming domain name deletes. I prefer the zone file method.
First New gTLDs came out in early 2014 when 7 Donuts extensions entered the EAP in January 2014 and general availability on the 5th of February, 2014. Since then total New gTLD registration numbers were mostly going up up until 2017.
The New gTLD domain name registration peak was 26,055,086 domains on the 9th of March 2017. In the summer .xyz crashed losing millions of registrations.
But things are not very good lately for most New gTLDs as you can see below. For the past 8 weeks New gTLDs have been constantly losing registrations at a rate of about 12,500 domains per day.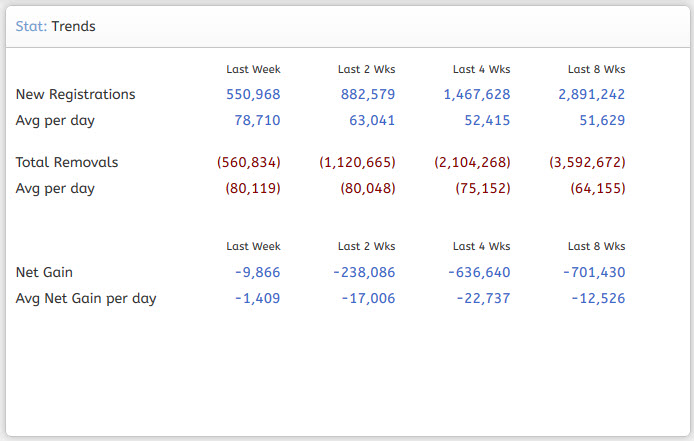 Of course some TLDs like .club are doing great (.club has over a million registrations) but it would be interesting to see how 2018 treats them.
Finally, according to Sold.Domains, New gTLD domain name sales have not been so hot in 2017 compared to 2016. (Most of the top 2017 sales reported by Rightside in April 2017 were sold in previous years.) And lately sales have been slow despite being helped by the rising popularity of crypto domain names.
I write more as we approach the 4-year New gTLD anniversary and also after the 2017 domain sales numbers are all in.