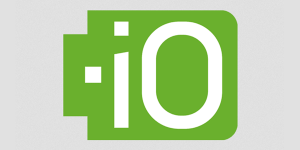 Owner information has stopped appearing on .io, .ac and .sh domain name whois and people have started complaining about this change.
It all started in April 2017 when Afilias won the contract to run the backend registry services for a number of country code domain extensions: .io, .ac and .sh. The new contract meant that all the technical aspects of the 3 ccTLDs would be handled by Afilias. That includes the domain name whois system, how and when the domain names expire and drop, etc.
Transitioning the existing domain names over to the Afilias registry should have been flawless and the new whois system was supposed to be identical to .info that Afilias has been running since 2001. .Info run on thick whois since 2001 and all the owner data (including registrant name, address, telephone, fax and email address) appears on whois.
The transition from Internet Computer Bureau (ICB Registry), the registry previously running the 3 ccTLDs, to Afilias was processed from June 10 (15:00 UTC) until June 11, 2017 (06:00 UTC). As a consequence, the domain life cycle of .io, .sh and .ac was adjusted to the standard gTLD life cycle.
ccTLDs don't all operate in the same way as gTLD extensions like .com or .org do. In fact very few do. That is because each ccTLD is usually opearated by its respective country and all have setup different rules.
The main changes for .io, .ac and .sh effective as of June 11, 2017 were (supposed to be):
Domain name operations for .io, .sh and .ac domains are processed identically to .info domain operations.
Domain names can be registered and renewed for a period of 1 to 10 years.
There is a 60-day registrar transfer prohibited status on all newly created domain names. (This is the same as other ccTLDs like .me, .vc, .mn, .bz, .ag, .sc, .lc)
Domains upon expiry are auto-renewed and the relevant grace period (45 days) is applied.
There is support of all IDNs that are available at the Afilias registry system.
The problem is that domain name whois is not working like it was working up until June 10, 2017 and it is not working like it was supposed to work after June 11, 2017. That is showing the complete owner data on all .io domain names.
I checked whois for the domain name test.io on the official .io registry website at https://www.nic.io/whois-search.htm and this is the info it provides: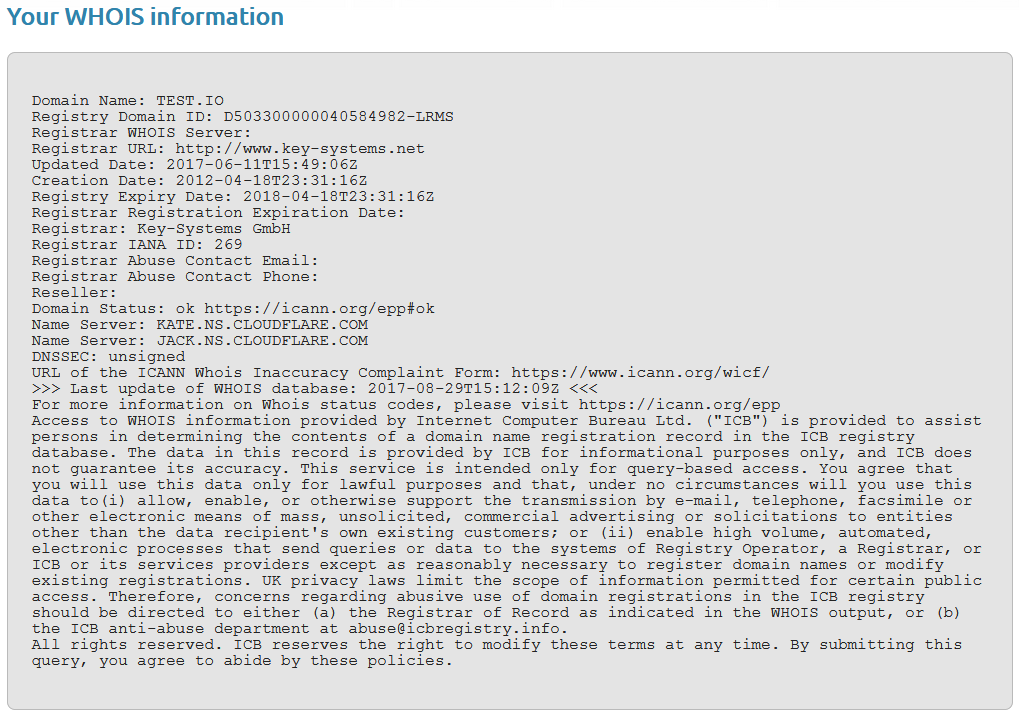 All you can see is the registrar information, the registration and expiry dates, domain status and the nameservers. It provides no information about the domain name owner/registrant. And this is of course not similar to the .info whois. .Info whois has complete registrant info while in the ccTLDs owner info will just not show up.
A workaround is visiting the respective registrar and trying searching whois there. I tried it at name.com and it gave me the complete whois details for a domain name that was registered there. I tried it at Namecheap and it didn't work.
This is in no way how whois for these extensions was supposed to work and it seems that this might have some effect in domain name sales as the interested buyers can't use whois to contact the domain name owners.
People are complaining more about .io as it has been a trending extension among many startups in the past few years. There a few "recommissioned" ccTLDs that are treated differently by their owners because of the alternative meaning of the 2 letters may have: .tv, .co, .me, .ai, etc.
I checked with .sh and .ac and these extensions are having the same whois problem as .io.
People having domains in these 3 extensions have to point them at a lander if they have them for sale or else no one can find them at this time.
On another note I found someone complaining on REDDIT about a mix-up with a .io domain name he had at Google Domains about the time of the registry transition.