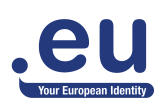 The new .eu whois is light years ahead of any other whois system, that I have seen, with an option to offer a domain name for sale and providing whois and Alexa stats on one page. Other whois providers should take notes…
EURid recently launched its new WHOIS service to provide more information on .eu domain names via the implementation of additional features.
Next to the contact details of the .eu domain name holder WHOIS provides the details of technical and administrative contacts associated with the domain name.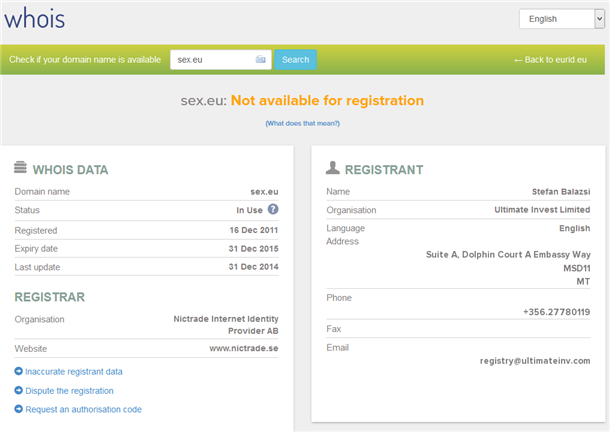 Please note that in order to respect the privacy of individuals, personal data is not fully disclosed in compliance with art. 16 of Regulation (EC) 874/2004 and EU Privacy Directive unless the registrant ask for its details to be displayed. You may request this data under strict conditions by completing a personal data disclosure form: Click here.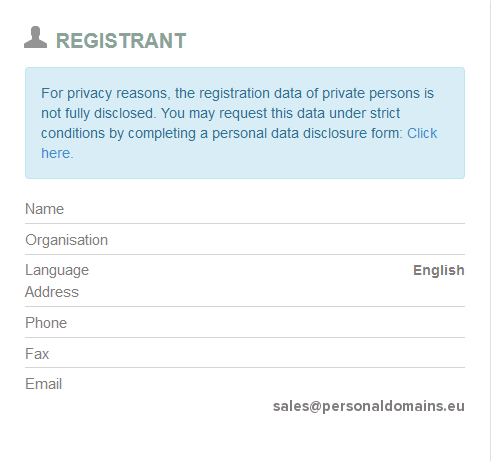 .EU allows registrants to to add the information that a registered domain name is for sale. This way the person interested in the domain name is now immediately informed about it (and may pursue additional steps in order to pursue the procurement of said .eu domain name).

If you click on click here a popup opens and displays a link to the Sedo domain name listing page. This offers the domain name sex.eu for sale at Sedo.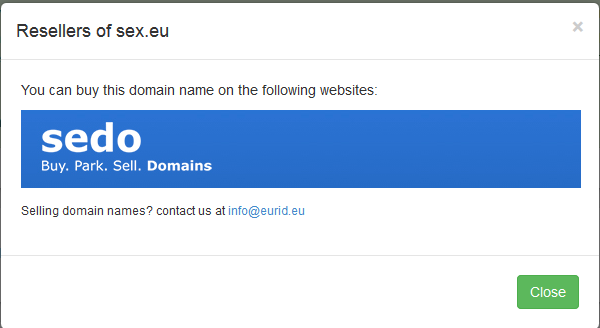 If you offer similar services for domain name sale, you may apply in order to appear on WHOIS. To do so they kindly invite you to send your application to info@eurid.eu. EURid will evaluate each application for compliance with the rules applicable to .eu domain names. Once the application has been accepted, EURid will be in touch with you regarding the technical and administrative information to set up this service. This is certainly a way to increase sales.
.EU whois also displays how many times the whois details have been requested for each domain name and also displays alexa stats on each domain name. This is a great tool for both owners and buyers.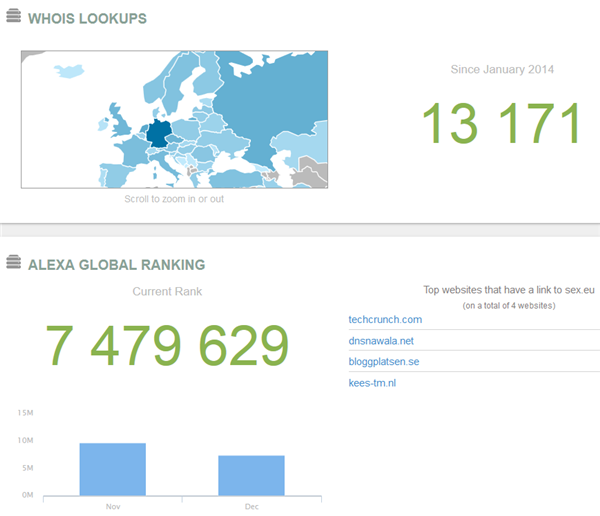 You can also see a list of domain names already registered similar to the domain name you searched for and request a detailed 'EURid-dataPulse distance' list.
The 'EURid-dataPulse distance' feature enables you to see a limited number of domain names similar to the domain name searched for via WHOIS search engine. Please note that up to five (5) .eu and .com domain names have been provided and subsequently ranked on visual resemblance.
If you are the owner of the domain name and you wish to receive the full list of domain names similar to your own by email please click here. Please be aware that the list can only be sent once every 7 days and will be sent to the official email address we have on file.