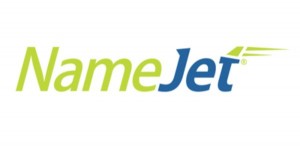 I was going through the Namejet domain name auctions when I spotted the domain name che.biz. I sold this domain at Sedo in March 2015 for 1,180 Euro.
So of course I was interested to see what the buyer was doing with it. I checked out the auction only to find that the domain had a $10,001 high bid.
But the auction also had a reserve range between $10,001 and $25,000 and the bid had not reached the reserve.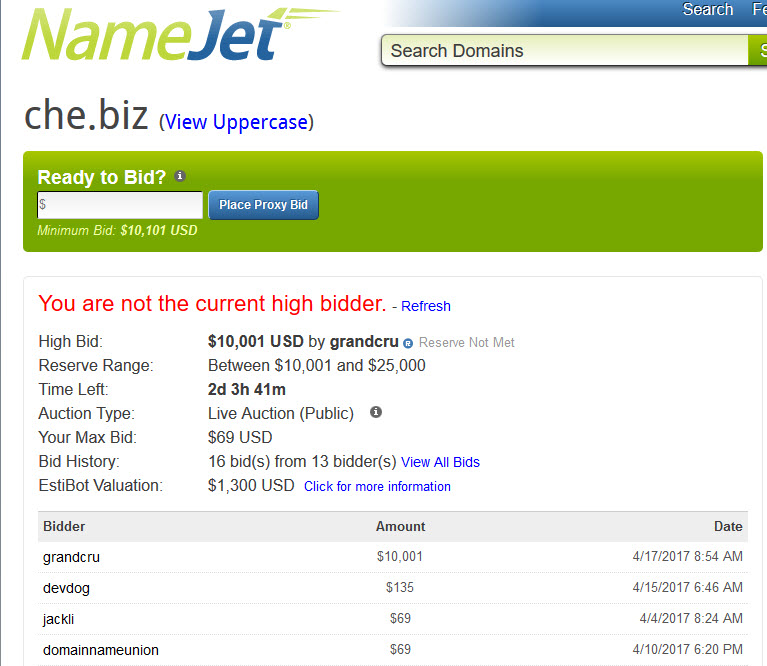 I checked the auction again today and "grandcru" has increased the bid to $18,800 and of course once again had not hit the reserve. The auction ends in a few hours.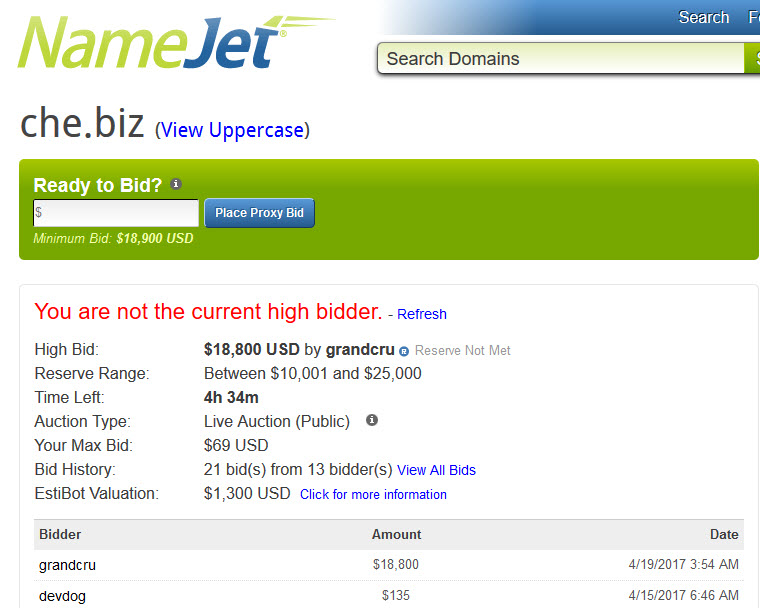 I was interested to see if this "grandcru" bidder was legit so I did some digging around.
What I found is that the bidder is probably not legit and that it is either the seller or a friend of the seller that is creating hype about the auction and also making bids close to the reserve so that some legit bidder gets tricked and makes a bid that will hit the reserve.
Here is another auction from last month with "grandcru" bidding just below the reserve for the domain name bakery.biz: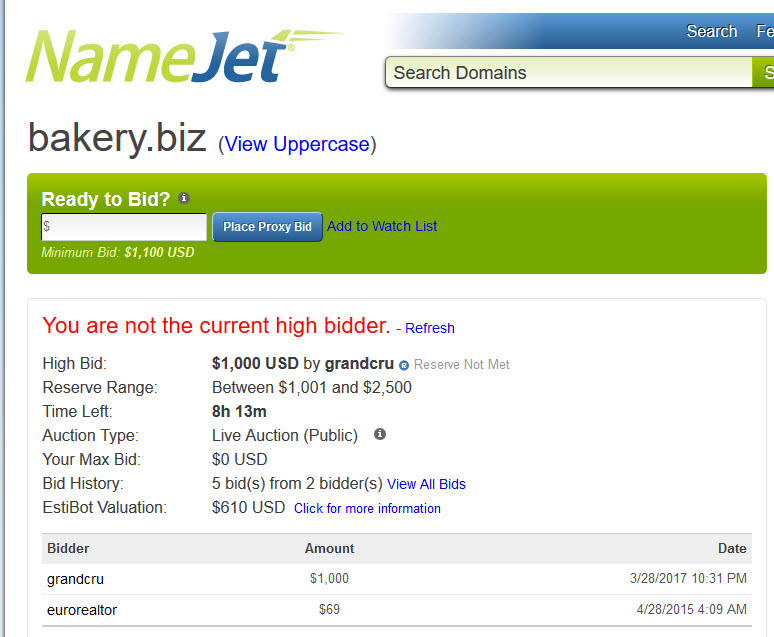 So after I found all this I came across a tweet yesterday by Mike Berkens that said that auto.co had a $75k bid at Namejet. So I went to the auction and guess what? It was "grandcru" once again bidding at the lower end of the reserve. "grandcru" made a $75,001 bid while the second highest bid was just $2,000. Of course the domain name was not sold. I guess the seller thinks we are all stupid.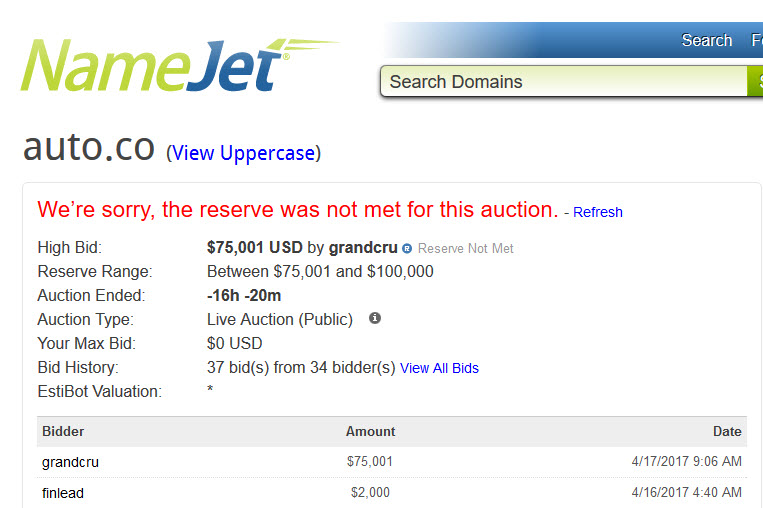 So I went to see who owns the 3 domains. While the owner of the domains uses many different email addresses and a few different addresses it is clear from whois that the same person owns both auto.co and bakery.biz.
I was not sure about the domain name che.biz but guess what? The sedo purchase gave it away. My buyer at Sedo had the same name and address as the auto.co owner. I checked with Whoisology to make sure and I found that last month che.biz had the same registrant name as auto.co and bakery.biz.
So yes, the 3 domains have the same owner from China (and Hong Kong) and all domains get some crazy bids from the same bidder "grandcru" that don't reach the reserve. Excuse me but I don't think this is a coincidence!
BTW, all 3 domains are registered with the registrar "HICHINA ZHICHENG TECHNOLOGY LTD" and parked at Bodis. I have all the whois details, past and current, if anyone is interested. If you have seen any more "grandcru" bids please let me know.
This is of course not something new. Most major domain name auctions (with reserves) have these bogus bids near the reserve to attract attention. But this is getting out of hand with Namejet because of its popularity and the ease of putting domains to auction. I have noticed similar trends with several Namescon/Namejet auction items as well.
Buyers should be careful when they see those kind of bids. This of course happens not with dropped or expired auctions but with domain names that are sold by their current owner that tries to manipulate the auction.
I expect a proper investigation by Namejet on this seller that will probably result in a ban of the seller from the platform and the deletion of all related accounts. Namejet could and should do a much better job keeping the platform clean. This would be good for everyone in the domain name industry.
UPDATE #1:
I just noticed that che.biz is marketed by Namejet. If I was Namejet I would be very careful what auctions I promote.

I also found 2 more bids by bidder "grandcru" for the auctions of 22.biz and drug.biz that end in the next couple of days. And yes, both domains are owned the same owner.

Auctions for che.biz, 22.biz and drug.biz have been removed from Namejet.