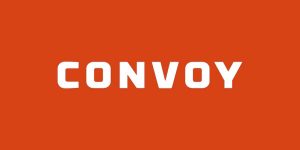 The domain name Convoy.com sold for $135,000 to a startup that is backed by Jeff Bezos and Marc Benioff. The buyer used a brand protection agency and a generic Gmail email address for the negotiations.
Interestingly enough the domain was saved in a UDRP back in December 2010. (The Convoy startup had nothing to do with the complaint.) John Berryhill represented the owner and then seller of the domain. The complaint brought by a Hong Kong company was denied by a 3 member panel.
The domain was sold in June 2015 to the Seattle startup and that was before it raised $2.5 million in October 2015 from an impressive group of investors.
The funding round in October 2015 was led by Code.org founders Hadi and Ali Partovi. Other participating investors include Bezos Expeditions — the investment arm of Amazon.com CEO Jeff Bezos — Salesforce.com CEO Marc Benioff, Expedia CEO Dara Khosrowshahi, Dropbox CEO Drew Houston, former Starbucks President Howard Behar, KKR CEO Henry Kravis, eBay founder Pierre Omidyar via Omidyar Technology Ventures, and several others.
The startup was founded in April 2015 and it doesn't seem that the company had used another domain name previous to buying the premium domain Convoy.com 2 months later in June 2015. Up until September 26 the website on Convoy.com displayed just this: The "Get in touch" link was to a convoy.com email address. Were they being secretive until they were funded? It is unknown but by December their current website was built.
The startup operating in Washington State, Oregon and Idaho aims to make it easier to book local and regional trucks on demand. Every truck and driver in our network is equipped with the Convoy mobile app to provide you with real-time shipment tracking, status updates, and on-time deliveries. The startup has built a smartphone Uber-like app that lets truckers find jobs in a matter of minutes without the traditional legwork — and monetary cut — required when using a broker.
Convoy added more of technology's biggest names to its roster of investors in a $16 million funding round announced in March 2016. Convoy added to its list of investors Silicon Valley venture firm Greylock Partners plus individual investors including Amazon executive Jeff Wilke, Instagram co-founder and CEO Kevin Systrom and LinkedIn executive Mike Gamson.
(I tried to get in touch with convoy ask a few questions on the domain acquisition but they declined: "Thanks for your inquiry.  Our executive team is very busy, and we must
respectfully pass on this inquiry.")
OnlineDomain.com talked with the seller Josh Bond about the 135k sale and tried to get some insight into the negotiations and the 2010 UDRP complaint. (It took me a while to realize that his last name is Bond and his email address in using the MrBond.com domain name. Clever… He registered MrBond.com a day after he hand registered Convoy.com back in 2000.) Here is what he had to say:
They used Safenames House (http://www.safenames.net/aboutus/contactus.aspx) to negotiate the sale.
Thus, I did not know who they the buyer was. Safenames House attempted to use a generic gmail address concealing their identity but they have used that same email before and their "generic" gmail found its way into now archived whois records for other domains they purchased on behalf of clients. While I learned Safenames identity, I did not know who their buyer was.
Previously in 2010, before the Convoy Financial Services of Hong Kong filed a UDRP, Convoy Financial first made an anonymous offer through Sedo. When I counter offered, they filed a UDRP. In their UDRP complaint, they made a big deal about my counter offer, suggesting it was bad faith. It was their centerpiece, bad faith argument. (These details never made it into the final decision–the arbiters frequently leave out facts they feel are unrelated to the case). Berryhill correctly explained that if my counter offer was a bad faith offer in excess of out of pocket registration expenses, then what was their offer? Their offer, too, was in excess of out of pocket registration expenses. If it's "bad faith" to buy or sell a domain for in excess of out of pocket registration expenses, why did they offer to do so? After Berryhill won the case, I never heard from them again.
When the Safenames House buyer appeared and offered money on behalf of an anonymous buyer, I wondered if we were again going down the UDRP "trap" path with the same complainant. But already having an easy UDRP win on
convoy.com
, and the fact this name has always been used generically or descriptively, I didn't worry about it.
The negotiations happened in the span of one week. Safenames sent an offer directly to email, bypassing the Domain Name Sales lander, which is what I find educated buyers of premium domains do. Buyers should strive to eliminate any middle-man or brokers and communicate with the domain owner directly, although in this case it didn't make a difference because I handle my own Domain Name Sales leads (but many in the industry don't). Their opening offer was $50,000 and they said it was their maximum and final offer. Both their method of contact and their reasonable opening offer suggested they were indeed a serious buyer.
I countered at $165,000 and we eventually settled on $135,000 after some back and forth. In the 14 years of owning Convoy.com, the highest offer I received was $30,000. It's a very situational domain, a very niche domain, and both were found with this buyer. It's obviously perfect and memorable for their usage, easily passes the radio test, it's only 5 letters, and it's .com.
I registered in on Halloween of 2000 on a drop, before all the registrars took over the drop process. Back then, it was all treats with no tricks. 🙂