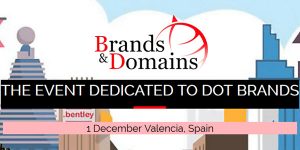 The Brands and Domains event has been announced and will take place in Valencia, Spain on December 1st.
Attendees are also invited to attend for free TheName.SHOW on December 2nd. The Name.Show event is targeted towards the traditional domain industry.
The event gathers experts on digital marketing, registry operations, search engine and branding from major companies that have registered Brand New TLDs, or those considering applying for a Brand TLD in the future.
Due to its nature, Brandsand.Domains is an exclusive event with a reduced number of participants, representing some leading companies in the global market.
Many participants will be representatives of brands that have their own Brand TLD, coming from fields such as:
Marketing and communication
Research and development
Customers' experience
Legal and Intellectual Property
IT and technology providers
Supporting service providers
WHY ATTEND? 
These are the reasons why you should attend Brandsand.Domains given by the event organizer Dietmar Stefitz:
The only eventexclusively dedicated to the new Brand TLDs.
Listen to experienced expertson digital marketing, e-commerce, SEO, social media and branding
Hear practical examplesof how other companies are using the new Brand TLDs.
Learn about the opportunities and benefits that a dotBrand can provide you.
Covers all levels of experience. You do not have to be an expert to join!
Get ahead of your competitors; be the first in the Internet of the future!
Get to know interesting professionalsin a relaxed and exclusive environment.
Save time: in a single day you will learn what you need to know.
Get the results from a unique Brainstorming experience, held on 30 Nov.
Event information, agenda and venue details can be found at the Website brandsand.domains. The day will close with a gala dinner, providing networking opportunities.