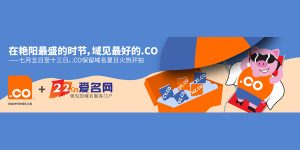 .CO, part of Neustar, Inc., had its first domain name auction in China. The auction, which was held exclusively on Chinese auction platform 22.cn, offered 19 two-letter domains like CY.co and XN.co.
The auction concluded today July 13. The total proceedings of the auction were about $250,350.
Top sellers were cy.co that was sold for $32k and zq.com that sold for $29k.
Here are the results of the .co auction:
| | |
| --- | --- |
| Domain Name | Price (USD) |
| zq.co | 29,013 |
| hz.co | 13,011 |
| zs.co | 17,647 |
| fz.co | 17,647 |
| yz.co | 12,562 |
| jm.co | 12,113 |
| zj.co | 17,946 |
| dz.co | 16,450 |
| xn.co | 8,823 |
| cy.co | 32,004 |
| xd.co | 9,720 |
| xg.co | 9,870 |
| xh.co | 13,160 |
| xi.co | 7,028 |
| xj.co | 7,103 |
| xq.co | 7,103 |
| xr.co | 6,430 |
| xu.co | 4,860 |
| xz.co | 7,103 |
| 10 Domains (z0.co up to z9.co) | 747 |
Neustar also included a few .biz domains in the auction that didn't do as well and made about $4,330 more:
| | |
| --- | --- |
| Domain Name | Price (USD) |
| x1.biz | 171 |
| tb.biz | 1,794 |
| bc.biz | 2,018 |
| 5s.biz | 179 |
| 8f.biz | 164 |