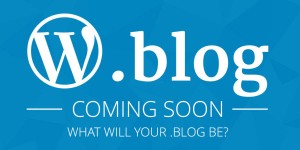 Automattic, the parent company of WordPress.com, paid over 19 million dollars for the .blog registry and will offer the .blog domain extensions through its subsidiary, Knock Knock, WHOIS There (KKWT), starting later this year. The company says it expects to activate 250,000 new names in 2016.
General availability for .blog domain names is expected in November 2016. Trademark owners will be able to register .blog domain names associated with their brands from August 2016.
.Blog domain registrants will not need to have a WordPress or WordPress.com site to purchase one.
Nominet announced today that it will be providing registry and DNS services for the new .blog top-level domain extensions, as well as technical support to the registrar channel.
Nominet announced last month that it would provide registry and DNS services for Minds + Machines Group Limited's 28 top-level domains (TLDs), including .london and .work, subject to the normal ICANN and client approvals. Nominet is behind the geographic top-level domains .cymru and .wales and is also helping brands like the BBC, Comcast and Bentley build their personalised online spaces.
Russell Haworth, CEO of Nominet, said: "We're excited to be a part of what's sure to be a very popular new top-level domain globally. Blogging is all about a personal point of view but with more of us online than ever before, there's less and less choice when it comes to getting the perfect domain name."
"We have a strong track record in offering added value, quality registry services to both brand and generic domain names. Our infrastructure, systems, operational capabilities, technical excellence and customer service are all second to none, and we are delighted that Automattic has chosen us as the partner for the .blog infrastructure, as well as technical support to the registrar channel."
The Automattic group includes WordPress.com, Jetpack and WooCommerce, among other products. Automattic has over 459 employees in 45 countries.