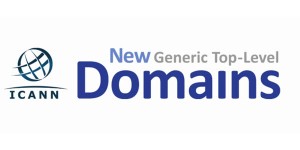 The latest edition of the bi-monthly CSC® Digital Brand Services' New gTLD Utilization Report shows both the number of .brands and generic TLDs in the Alexa Top 1M increasing by over 30% since the February report.
The report features the first implementation of a .brand within a dealer/franchise network, .Seat, and a newly released domain from .BMW which has seen some impressive results in search.
The report continues to share interesting examples of new gTLDs in use:
• asturiasmotor.seat
Spanish automobile manufacturer.
NOTE: SEAT is using its .brand to creatively assign authentic domains to its dealers. This is an ideal use case for companies that have a dealer, franchise, or partner network.
• nutritionnews.abbott
American pharmaceuticals and health care products company.
• play.afl
Australian Football League, AFL.
• tumoto.aig
American multinational insurance corporation.
• next100.bmw
German luxury vehicles, motorcycle, and engine manufacturing company.
• home.fage
Greek dairy company now incorporated in Luxembourg.
• apps.windows
American multinational technology company.
TOP 10 Extensions BY REGISTRATIONS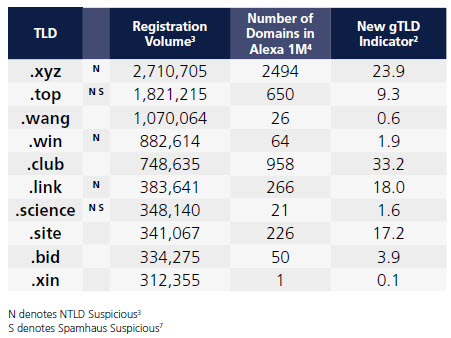 It is interesting to note that five (.xyz, .top, .win, .link, and .science) out of the Top 10 TLDs by registration volume are also flagged by NTLDStats.com as being the Top Suspicious TLDs with the highest number of domains potentially implicated with fraud. The others on their list are .click, .party, .review, .webcam, and .date. In addition, it was recently reported by The Spamhaus Project that the following extensions .work, .date, .poker, .review, .click, .tokyo, .science, .top, .party, and .download have a high ratio of SPAM domains.
Within the new generic TLDs, the .Movie extension is in the spotlight this month. The report shows "it is becoming a very interesting category extension, allowing for more memorable and shorter movie domains than are currently available for a reasonable price in .com". As a result, it is performing well in CSC Digital Brand Services' gTLD Utilization Indicator score. More details can be found in the report.
This most recent report looks at:
The number of active .brands and those recently delegated
The highest ranking .brands in the Alexa Top 1M
The number of generic new gTLDs in the Alexa Top 1M
The new gTLDs that trigger suspicion in the Top 10
An alternative look at the Top 10 with our gTLD Utilization Indicator score
The performance of .brands in search