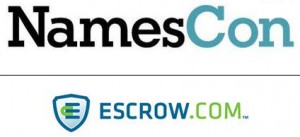 I am now all ready for NamesCon 2016! This is my 2nd NamesCon and I can't wait to go back and see all the great people I met last year plus many that I didn't have time to meet and the people that weren't at NamesCon last year.
I am arriving in Las Vegas on the 9th of January and leaving on the 14th. I am staying at the Tropicana cause I want to be as close to the event as possible. It is really convenient if you want to take a nap or if a waitress pours half a bottle of wine on your shirt. 🙂
I had some trouble booking the room as my Greek credit card was declined. Damn these Greek capital controls! But I am ok now. Everything is booked and paid for. The only thing missing is my dollars that will be at my bank on Friday waiting for me.
My 3rd and last flight going to Las Vegas from Greece is an American Airlines flight from JFK to McCarran on the 9th. Let me know if anyone is on the same flight.
I have not booked any meetings yet but I have arranged to meet a few people already. We just have not finalized the time. If you want to meet send me an email or look for me around the Tropicana. From what I see all our nights are booked already when it comes to drinks. Dinner is another matter. Uniregistry just announced that the club that is booked for the Monday night party is Hakkasan at the MGM Grand that is located very close to the Tropicana hotel. I know a few attendees are staying there.
Finally, I would like to share a tip. Some of the best domain name conversations take place after hours at the Tropicana. After the parties… This is where people open up and anything can happen! So if you can take it, have a drink and stay late. You can sleep when you get home. And here are 10 tips from Shane Cultra.
Anyone that is coming to NamesCon (or not) is welcome to leave a comment about anything they find relevant. Most people don't have anything planned on the 9th. Any ideas about dinner or drinks?
Here are my posts about NamesCom 2015 with loads of photos to see what you will be missing if you don't come:
A Walk Around NamesCon 2015 (photos)
NamesCon 2015: Sessions And RightOfTheDot Auction (photos)
NamesCon 2015: Waternight (photos)
NamesCon 2015: Frank Schilling, Shayan Rostam (.xyz), Theo Develegas & The Girls! (photos)