Moniker, the once great but lately failing registrar, seems to be turning a page. Jothan Frakes will be in charge of Moniker as it was announced in DOMAINfest Asia.
Andee Hill, business development director for Donuts Inc., revealed this in a Facebook post today: "Domainfest.Asia exclusive-Jothan Frakes to take the helm of Moniker".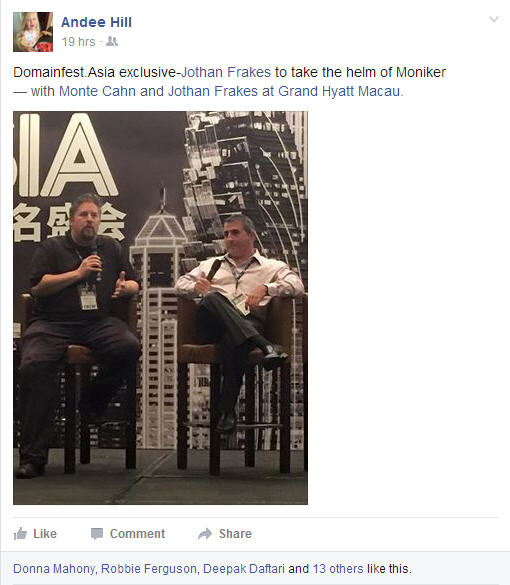 I find it at least a bit ironic that the photo posted on Facebook has Jothan Frakes sitting next to Monte Cahn, founder and former CEO of Moniker.
In 2008, Moniker was purchased by Oversee.net for $35 million USD. In January 2012, it was acquired for an undisclosed amount from Oversee.net by KeyDrive SA, which is the parent company of competitive ICANN accredited TOP 10 registrar Key-Systems.
Moniker has been having many problems since the KeyDrive aquitition and especially since they changed the Moniker system to the one that Key-Systems is using. The new system and control panel was a disaster with numerous complaints of lost domains. The problems peaked when Moniker was hacked and several domains were stolen. Moniker has lost a large part of the registrar market share in the past couple of years as a result of all these problems.
Since February 2014 Bonnie Wittenburg is new CEO of Moniker. Bonnie Wittenburg is the Executive Vice-President of Key-Systems USA and CEO of Moniker.
Jothan Frakes, is among other things the co-founder and executive producer of the NamesCon conference.
Will Jothan Frakes be replacing Bonnie Wittenburg as the new CEO? I guess will soon learn more details.
Here is one of the post I wrote about all the Moniker problems: Moniker Update: 12 Points On What Works and What Does Not