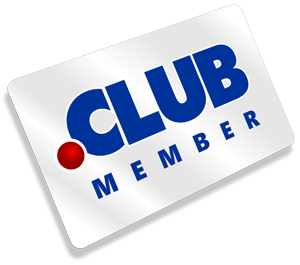 The .Club registry announced today that in less than a year from its launch, more than 200,000 .CLUB domain names have been sold.
Namestat.org reports that there are 190,554 .club domains in the zone file, meaning that there are about 10,000 (or 5%) domains that don't have nameservers attached.
Hundreds of new .CLUB names are being registered every day at domain name resellers all over the world. Yesterday there were 790 new .club domain name registrations.
Recognized globally as a meaningful, memorable word that expresses community and shared passion, .CLUB is the most popular new domain extension introduced thus far as part of the Internet's recent namespace expansion.. .Club has not issued any free domain name registrations like a lot of other registries have done.
Those now using a web address ending in .CLUB include brands, celebrities, sports figures, innovative entrepreneurs and startups, associations, and clubs around the globe.
.CLUB Domains is already GoDaddy's #1 selling new domain extension and has set the benchmark for widespread usage and premium name sales, including the auction of Wine.club for $140,000 and sales of Coffee.Club for $100,000, Vegas.club for $100,000 and many others, totaling more than $800,000 to date. This is in addition to the revenue from standard domain registrations and renewals.
In addition to using premium .CLUB names entrepreneurs are finding other creative uses of .CLUB names such as up and coming music site TheDrop.club, launched by serial entrepreneur Justin Kan (Justin.tv, Twitch.tv). Other high-profile celebrities around the globe have also joined the .CLUB to market and promote their fan sites, including Indian cricket star Virat Kohli with ViratKohli.club; legendary rapper, actor and entrepreneur 50 Cent with 50InDa.Club; and singer Demi Lovato with Lovato.club.  As important, tens of thousands of clubs, business and individuals are actively using a .CLUB address for their web presence, from Rotary Clubs, to school clubs, to passionate bloggers.
"We knew from the beginning that .CLUB would be a hit, as it has meaning and recognition all over the world, no matter the language, alphabet or culture," said Colin Campbell, president and CEO of .CLUB Domains.
"It's exciting and amazing to be part of this transformation on the Internet, as more businesses and consumers realize they are still able to get a great domain name that translates into better marketing, better branding and more meaning to the right of the dot.  We believe our domain has helped launch more new online businesses in just our first year than any other gTLD, and we believe it will continue this momentum for years to come."
About .Club Domains, LLC
Led by Internet entrepreneur Colin Campbell, whose prior successes include Tucows Interactive and Hostopia.com, .Club Domains, LLC was formed for the purpose of becoming the .CLUB gTLD registry.  The company recently launched Startup.club to support entrepreneurs building businesses around a .CLUB domain name. With more than 200,000 domain names sold to date .CLUB leads the pack of new domain extensions in sales and usage. More information and links to register .CLUB domains are available now at http://www.nic.club.