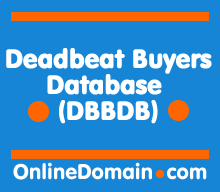 I am starting a new section on OnlineDomain.com and a series of posts today. This section is going to be dedicated to all these people that agree to buy a domain name and then refuse to pay and complete the transaction giving various excuses. The people that are known as the "Deadbeat Buyers".
These are people that don't follow the laws, the rules of society and most importantly abide by no honor code. Thus, they are ruthless people that have no place in business, commerce and are a menace to society.
This section will portray such people and attempt to expose them to the world. I will give out any details I can find so that these people don't wrong anyone else in the future. Anyone that wants to conduct any type of transactions with these people will have these posts as a reference to the person's ethics and integrity, or rather lack of.
Here is the first DBBDB inductee:
Name: Henry Porter
Location: London, United Kingdom.
Email: henryporter@btconnect.com
Henry Porter is an English author and journalist. Henry Porter is specialising in liberty and civil rights. (the irony) He is a writer of thrillers and until 2014 a regular columnist for The Observer newspaper. He is also the British editor of Vanity Fair.
Here are some links so you can learn more about Henry Porter:
Official Website (henry–porter.com)
Twitter (@henrycporter)
Wikipedia link
Here is a small history of our communications regarding the purchase of a domain name that Mr Henry Porter agreed to buy and entered a binding contract:
Mar-2-2015
Henry Porter:
interested in buying e*****3.com
Mar-2-2015
Me:
Dear Henry Porter,
The seller informs us they would sell the domain episode3.com to you for €4000 Euro.
Please add 23% sales tax (FPA) to the price if you are located in the European Union and don't have a VAT number.
Buyer pays any escrow fee.
This offer is valid for 7 days.
Any offers made by the buyer are valid for 7 days in which period an acceptance from the seller makes the offer a binding contract between the 2 parties. Failure of the buyer to pay within 7 days after the acceptance of the offer will incur legal proceedings against the buyer in a court of law in the buyer's jurisdiction.
Mar-2-2015
Henry Porter:
Konstantinos
All good.
We will buy.
My partner,. Steven Murphy <steve@s*****o.com> , will complete the purchase. I will copy your message above to him. Do you have an email? Or shall I simply give him the link to this page?. best wishes, Henry
Mar-2-2015
Me:
Dear Henry Porter,
my email is b*****m.
Please include your company name, address and VAT number.
And your email that I would use for the escrow.com transaction.
Mar-2-2015
Henry Porter:
Hi Konstantinos,
Our company is yet to be formed and we do not have a VAT number. Des this matter? Do you need a number? I have a personal VAT number. Will this do?
Mar-3-2015
Me:
Dear Henry Porter,
yes it does matter as I will have to charge you for VAT tax if you don't have a VAT number.
Please send me your personal VAT number and address so I can check if that will do ok.
Mar-9-2015
Me:
Please reply to my emails
Mar-9-2015
Henry Porter:
Thank you for your emails: we are considering a number if names. Henry
Mar-9-2015
Me:
Dear Henry Porter,
I do not I understand what you mean.
We have a binding deal for the sale of the domain name e******3.com.
Please send me your details so we can start the transaction.
Mar-9-2015
Henry Porter:
There is no binding agreement.
Mar-9-2015
Me:
Dear Henry Porter,
OH YES there is.
I suggest you read the emails and consult with your lawyer.
You have 7 days to pay starting now
Mar-12-2015
Me:
Dear Henry Porter,
just reminder that you have until the 16th of March to make a payment. You canceled the escrow.com transaction but does not mean anything. I gave you an opportunity to pay and avoid legal action.
You have entered into a binding contract and we will make any necessary legal arrangements so we can collect. We will sue you in a Greek court and then on a UK court.
Mar-12-2015
Henry Porter:
Mr Zournas,
There was no contract. I simply withdrew from a negotiation.
You will know from your time in the UK that this does not amount to a
contract.
This correspondence is at an end.
Henry Porter
Mar-12-2015
Me:
Dear Henry Porter,
I made an offer, you accepted. Negotiations were over.
This is what UK law says about it:
http://www.inbrief.co.uk/contract-law/evidence-required-to-show-breach-of-contract.htm
See you in court and on deadbeat buyers database.
This is only getting started.
Others will learn from your mistakes.
Konstantinos Zournas
He then stopped replying to me emails and contacted escrow.com to cancel the transaction I had started. I am not sure what he thought but the transaction was just a way for him to pay for the domain name he agreed to buy. Canceling the transaction at Escrow.com did not cancel the agreement we had.
Good luck Henry Porter. I hope this post will help other people know who you really are.