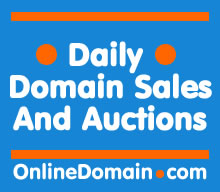 Do you know all domain endings? From .com to .whatever. (Infographic)
Take a look at My Domain Name Purchases In 2014 (Part 2).
Go Daddy: "Don't Give Up On Your Dream Domain" (video)
Google Paid $25 Million For The .APP Extension (good luck getting that money back)
400 .NYC Neighborhood Domain Names Up For Grabs By Community Groups
Top 10 Posts In January: Developed New gTLDs, NamesCon, Rightside, .UK, Escrow.com
Also .BIZ Domains Get A Plug From The Big Bang Theory: Bazinga! (video)
New Go Daddy TV Ad: "The Resort" With Jon Lovitz (video)
NamesCon January 10-13, 2016: 80% Off Until February 28th
Click here to see all the old daily domain sale reports.
To newbies: these prices below are 99% WHOLESALE prices except for some sales at Sedo. Here are the top domain name sales and auctions from Sedo, Namejet, Snapnames, Go Daddy, Drop Catch and Flippa (please note that a lot of the domain names listed below have not been paid for yet):
| | |
| --- | --- |
| watch32hd.com | $4,028 |
| 99mall.com | $1,600 |
| clinx.com | $1,467 |
| leesburgflorist.com | $720 |
| gamerplus.com | $710 |
| bigdatahub.com | $710 |
| avenel.com | $650 |
| wafflerecipe.com | $545 |
| kathleensbridal.com | $514 |
| lroc.com | $510 |
| blogway.com | $508 |
| devhood.com | $475 |
| telecomindiaonline.com | $450 |
| snowvillagecanada.com | $381 |
| allgenes.org | $361 |
| opais.net | $325 |
| nohoprideandjoy.com | $306 |
| pacificyouthcouncil.org | $306 |
| sourcebooksdetroit.com | $225 |
| theprojectlodge.com | $205 |
| wuah.com | $199 |
| transfertoregis.org | $193 |
| lightbistro.com | $190 |
| greenwood-phinney.com | $165 |
| rjwebdev.com | $162 |
| casinopal.net | $155 |
| cats2013.com | $145 |
| sbobet1.info | $135 |
| sbobet168.info | $135 |
| beenbe.com | $130 |
| facesfromthefront.com | $125 |
| nyemo.com | $120 |
| gomeco.com | $120 |
| dudastavern.com | $120 |
| advanced-synthetics.com | $110 |
| rollovermy401k.com | $105 |
| socialangel.com | $104 |
| kgvp.com | $97 |
| uuqe.com | $93 |
| unbrokencircle.org | $90 |
| wildwood-lodge.com | $90 |
| fvbr.com | $85 |
| runpikespeak.com | $80 |
| cnymotorsports.com | $77 |
| smilechocolatiers.com | $75 |
| bakufsa.com | $75 |
| lbvv.com | $75 |
| pittsburghwillys.com | $74 |
| villagecay.com | $65 |
| vxex.com | $62 |
| sbobetaffiliate.info | $61 |
| quyw.com | $58 |
| bkfashionweekend.com | $55 |
| rentail.com | $54 |
| bellecourlondon.com | $50 |
| couscousatlanta.com | $46 |
| rxaf.com | $40 |
| thefunniestblog.com | $37 |
| keywesttripadvisor.com | $35 |
| medlegal-la.com | $35 |
| actmp2014.com | $35 |
| 666359.com | $34 |
| 666035.com | $34 |
| studentslife101.com | $30 |
| yqnv.com | $22 |
| americaenlared.com | $20 |
| pompanobeachfl.org | $15 |
DropCatch Dropped Auctions:
lemon.net $5,045
Flippa Domain Auctions:
Educate.io $1,500
DebtRelief.net $1,410
nneo.com $299
opgy.com $106