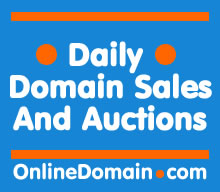 I sold 4 domains this past week. 2 of them are paid already and I am sure that the 3rd will get paid also. Not sure about the 4th one. I sold 2 new gtlds, $2,5k and $10k(-20%), a .us for $2k and a .info for $4,5k. I guess you can make money with any extension. I also declined a $10k offer on a .com.
Take a look at My Domain Name Purchases In 2014 (Part 2).
Go Daddy: "Don't Give Up On Your Dream Domain" (video)
Google Paid $25 Million For The .APP Extension (good luck getting that money back)
400 .NYC Neighborhood Domain Names Up For Grabs By Community Groups
Top 10 Posts In January: Developed New gTLDs, NamesCon, Rightside, .UK, Escrow.com
Also .BIZ Domains Get A Plug From The Big Bang Theory: Bazinga! (video)
New Go Daddy TV Ad: "The Resort" With Jon Lovitz (video)
NamesCon January 10-13, 2016: 80% Off Until February 28th
Click here to see all the old daily domain sale reports.
To newbies: these prices below are 99% WHOLESALE prices except for some sales at Sedo. Here are the top domain name sales and auctions from Sedo, Namejet, Snapnames, Go Daddy, Drop Catch and Flippa (please note that a lot of the domain names listed below have not been paid for yet):
Sedo Domain Sales:
musix.com 7,750 EUR
mybusinesscloud.com $4,995
lace.eu 3,750 EUR
knips.at 1,800 EUR
heimwerk.de 1,750 EUR
clickjet.com $1,500
Namejet Domain Auctions:
suc.net $2,700
ranchhomes.com $2,209
performancefitness.com $1,405
zoce.com $931
DropCatch Dropped Auctions:
mailout.com $3,316
MakeBetter.com $1,000
BianchUi.com $964
NetBag.com $950
Clean1.com $326
Dreimaster.com $305
KadosHop.com $244
UnoGateway.com $240
VillaDuParc.com $160
Unickz.com $144
Flippa Domain Auctions:
LearnTheWeb.com $1,800
RealEstateDomain.com $600
CoolByDesign.com $366
oduh.com $265
MindDig.com $175