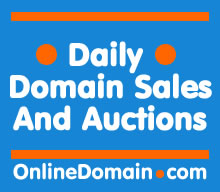 Since September I am posting the daily sales and auction results from Sedo, Namejet, Snapnames, Flippa and Go Daddy.
In some cases, usually for prices above $1,000, I include some auction results for domains that have not met the reserve price of the seller. Nowadays all auction houses are auctioning not only expired domains but also domains sold by their owner.
A couple days back I got a comment here from Joseph Peterson, a domain name investor and consultant, whom most of you know:
Hi, Konstantinos. Please don't take this the wrong way, since I believe you ought to be free to publish any auction result as you see fit. I'm not telling you what to do. Just thinking aloud myself and wondering what you yourself think.

Basically, it seems to me that reporting on auctions that don't meet a reserve comes with some risk that you and your readers might be taken advantage of.

After all, anybody who wants to can set a high reserve price and have a friend place high bids below that reserve. If they know that such non-binding bids will get them extra publicity in the form of blog posts by industry observers, then some unscrupulous sellers will be even more likely to engage in those practices. In other words, attention paid to auctions that close below a reserve price does increase the incentive for shill bidding.

I'm not suggesting that all auctions that don't meet a reserve have fake bids. Clearly that's not always true. Also, I'm not pointing fingers at anybody. But many auctions that end without a sale do have bids from people who have no intention of buying … and sometimes no real bids whatsoever. So I'm somewhat concerned about seeing bids that don't result in sales reported side by side with actual sales. They're very different species.

We'd have no way of knowing what's real and what's fake. But I figure that if someone out there (now or in the future) is rigging bids for the sake of publicity within an auction platform and publicity on blogs, you at least ought to be paid well for advertising on their behalf. If the practice of reporting on domain auctions that don't meet reserve becomes widespread within the domain industry, then there will be some abuses on the part of sellers that receive extra publicity and legitimacy from reports like yours.

That's my concern. I don't presume to tell you what to report or not report. What do you think on balance?
I don't mind, Joseph, I have heard much worse things than this, which is a quite interesting concern. Your ideas are always interested and of course welcome.
I have been thinking about this for a while so that is the reason I try to report auctions that have not met reserve of good names only. But I guess that does not solve the problem completely. People shill bid on good domains also and can try to get extra publicity.
My main concern is if I am actually doing a service here by giving them publicity or a disservice. Or just nothing at all.
I have talked about this in my post "The Problem With Premium Domain Name Auctions…":
The final thing that needs to be addressed is that once a domain name ends up unsold in an auction many people think that it was not worth the reserve so next time it will be on auction they will expect the reserve to be lower. Either that or they will start private negotiations well below the reserve. Do you want your premium domains ending up unsold at various auctions?
So I could actually be hurting the domain name value. Then again because a lot of the domain in my lists are bought by domain investors, I could be hurting the end-user prices by showing the reseller prices. What do you think?
But because you got me thinking, I could probably do all these things depending on who is reading the post. So I will stop posting the domain names that have not met the reserve on my daily lists.
The main thing is that auction results for most of these auction houses can be seen after the auction and some people already know about them. Anyone can post them and auction results, including domains that have not met the reserve, from big auctions are commonly reported. Other blogs are also reporting these unsold domains on a regular basis. And auction houses selling tangible items do this too. Or the media covering the auction does. I don't say that to defend me, I am just saying.
And of course my lists are bound to include inaccuracies. I am only reporting the auction results and not paid domain names except for the Sedo part. So even what I report as sales could never materialize. I hope everybody understands this but I am sure that not all people reading my posts do.
Namejet, Snapnames, Flippa and Go Daddy may include domains that are not paid by the winning bidder and reauctioned, sold to the second bidder for a lower price, may be renewed at Go Daddy or can be cancelled for no reason like it happens all the time at Namejet.
Anyway, I will stop reporting these results and avoid the headaches.