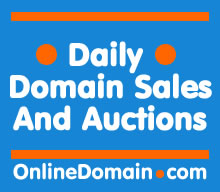 I made the first post today of what will be a series of articles with some of my domain name sales. The first post has 100 .info domain sales I have made over the past 10 years.
Namejet Adds 'Buy Now' & 'Bulk Deal' Features
New gTLD Weekly Launch Review: .Pizza, .Network, .Business, .Auction, .Software
I also published my renewals/drops report from October: My 476 Domain Name Renewals And 49 Drops (9.3%)
Here is a poll with over 400 votes so far: "Are You Renewing Your New gTLD Domains?".
Click here to see domain sale reports from the past week.
Here are yesterday's domain sales and auctions from Sedo, Namejet, Snapnames, Go Daddy, Drop Catch and Flippa:
| | |
| --- | --- |
| wonei.com | $4,550 |
| fireplacegateway.com | $1,176 |
| 90117.com | $712 |
| sellopia.com | $680 |
| mumbaitravellers.com | $659 |
| enry.com | $621 |
| peelroom.com | $620 |
| wholekitandcaboodle.com | $585 |
| siftheadsworld.com | $580 |
| movieztube.net | $436 |
| ecampsite.com | $421 |
| skytrain.info | $415 |
| ysqm.com | $311 |
| ecwg.org | $269 |
| bicycleheadsets.com | $260 |
| hpdn.com | $260 |
| cheapthrillswheelandtire.com | $256 |
| townsendstar.net | $251 |
| avhotline.org | $244 |
| 75825.com | $241 |
| babylon-uni.com | $230 |
| cafelafayette.com | $225 |
| wrjy.com | $225 |
| glittertextgraphics.com | $205 |
| agd-exhibitions.net | $205 |
| banhmi.us | $201 |
| jydt.com | $200 |
| allalbuquerquerealestate.com | $182 |
| maletamexicana.com | $166 |
| airportbaku.com | $160 |
| wholeshtick.com | $156 |
| partytimejewelry.com | $155 |
| jerabeks.com | $150 |
| 88jinpu.com | $150 |
| hollr.com | $145 |
| gprsmob.com | $143 |
| lukecole.com | $127 |
| marketzones.com | $126 |
| newsplorer.com | $124 |
| hgw333.com | $123 |
| primobeauty.com | $122 |
| amplifindmusicservices.com | $120 |
| 12vspotlight.com | $120 |
| seriphim.com | $119 |
| darmowaksiegarnia.com | $118 |
| qyyn.com | $116 |
| aminoprime.com | $115 |
| msdilo.com | $112 |
| zoocreative.com | $110 |
| abilenecommunitytheatre.com | $109 |
| flarebanter.com | $108 |
| arbita.com | $106 |
| seo4website.info | $105 |
| mydeepestsympathy.com | $100 |
| businessofguam.com | $100 |
| graftonfiredept.com | $94 |
| thetelonproject.com | $92 |
| 48430.com | $90 |
| xbrh.com | $86 |
| loghomeexchange.com | $86 |
| iqvi.com | $85 |
| maccgames.com | $82 |
| papua-expedition.com | $81 |
| lady-escorts.com | $80 |
| rtsprofessional.com | $80 |
| ayudaresgratis.com | $80 |
| brealweb.com | $80 |
| ovqo.com | $80 |
| glittergraphictext.com | $79 |
| ramseal.com | $79 |
| fetfest.com | $76 |
| aaimg.com | $76 |
| qlfl.com | $75 |
| thegreenharvestco.com | $75 |
| gcflutes.com | $71 |
| scbped.org | $71 |
| nijj.com | $70 |
| ihkb.com | $70 |
| loveofmydogs.com | $68 |
| capemayviews.com | $66 |
| prettycrunk.com | $66 |
| gadget-reviews.org | $65 |
| qtmz.com | $65 |
| realestate-condominiums.com | $65 |
| catchmybass.com | $63 |
| gatewayclassic.org | $61 |
| buzwave.com | $55 |
| greengov2012.com | $55 |
| eric-owens.com | $55 |
| qyor.com | $55 |
| zumv.com | $53 |
| demoz.org | $51 |
| wfvl.com | $49 |
| stolenelection2004.com | $46 |
| usxf.com | $45 |
| inpossible.me | $44 |
| wileyeslc.org | $43 |
| treehousecrafts.com | $41 |
| email-software.org | $40 |
| hanefi.net | $40 |
| palmspringsrestaurantrow.com | $40 |
| seserenti.com | $40 |
| balladnet.com | $38 |
| genvcampaigns.org | $38 |
| ghostgreeters.com | $38 |
| yxuo.com | $37 |
| xqhe.com | $36 |
| ipfk.com | $35 |
| oxkk.com | $35 |
| manywatersmission.com | $35 |
| feelessbalancetransfer.com | $35 |
| zznu.com | $32 |
| i2art.com | $31 |
| kpza.com | $31 |
| ivyf.com | $30 |
| vitalfiction.com | $30 |
| danfloodplumbing.com | $30 |
| fayj.com | $27 |
| gatoons.com | $27 |
| vicwebdesign.com | $27 |
| fierceover50.com | $26 |
| pornographica.com | $22 |
| vpqx.com | $22 |
| gmusiccenter.com | $22 |
| pfxu.com | $21 |
| nfxo.com | $21 |
| vrju.com | $21 |
| cchop.me | $20 |
| carrollwoodplayers.com | $20 |
| increase-web-traffic.com | $20 |
| ymvy.com | $20 |
| frutify.com | $17 |
| zwhi.com | $17 |
| 999507.com | $17 |
| vpqw.com | $17 |
| realestate-investment.net | $17 |
| xwfv.com | $17 |
| zruj.com | $16 |
| uovj.com | $16 |
| bestdomainsavailable.com | $15 |
| americanhorrorstory.org | $15 |
DropCatch Dropped Auctions:
DiZhongHai.com $1,005
AmpUp.com $710
LeCons.com $330
Css-FreeLibrary.com $271