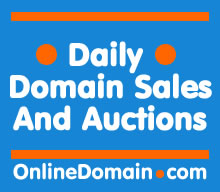 I am starting a new daily post today. I am going to list all domain name sales and auctions I can find in most of the aftermarkets and auction houses. I hope you will enjoy it. It is also a way for me to write some domain related thoughts and small news I have that don't make it info a separate post.
After 4-5 non-paying buyers in a 10 day period in August, I finally closed 3 deals in 36 hours before Labor day weekend. I sold a .com for $10k (I am certain it is going to be paid), another .com for $4k (escrow.com transaction closed, wire has not yet arrived to my bank) and a .info for $3.5k (wire has been send to escrow.com). I will post more details when all 3 sales have closed and money is in my bank. Wire transfers and payments have been delayed because of Laber day.
The domain enpareja.com sold for $5,000 at Sedo. Buyer is probably the owner of en-pareja.com that is an active dating website.
It will take me a couple of days to get tuned in to all the auctions but here are yesterday's domain sales and auctions:
Sedo Domain Sales:
enpareja.com $5,000
oekogas.de 3,800 EUR
vrgate.com $2,000
oesterreich.co 1,000 EUR
casino.org.mx 1,000 EUR
Namejet Domain Auctions:
nc.uk $4,600 (reserve not met)
ln.uk $3,600 (reserve not met)
rk.uk $3,400 (reserve not met)
nc.co.uk $1,655 (reserve not met)
rk.co.uk $1,555 (reserve not met)
ln.co.uk $1,150 (reserve not met)
Snapnames Domain Auctions:
–

Go Daddy Expired Domain Auctions:

| | |
| --- | --- |
| straightscoop.org | $170 |
| curiwiki.org | $125 |
| columbiacitypaper.com | $420 |
| newsmia.com | $511 |
| tanabeusa.com | $215 |
| thekeyalliance.org | $192 |
| k9alliance.com | $192 |
| 126es.com | $110 |
| e1q.com | $206 |
| nordenvoyager.com | $161 |
| ebikekitshop.com | $146 |
| omspress.com | $105 |
| ukmortgage.com | $1,725 |
| africanamericanopinion.com | $188 |
| jpwl.com | $234 |
| gbt.net | $721 |
| cancun-webs.com | $135 |
| xensei.com | $405 |
| mypokercorner.com | $110 |
| jobmarketing.com | $322 |
| imfpc.org | $203 |
| hyli.com | $610 |
| iraqrailways.com | $405 |
| globway.com | $145 |
| indepthexploration.com | $790 |
| officialbaldwinmotion.com | $326 |
| jaredstikararebooks.com | $175 |
| elegantcars.com | $255 |
| syara.com | $680 |
| attic.net | $650 |
| yourownsite.com | $761 |
DropCatch Dropped Auctions:
StreamCast.com $3,750
JuqiAnbao.com $1,730
Mapforce.com $1,003
Flippa Domain Auctions:
DomainVisibility.com (portfolio of 500 domains) $10,600 (reserve not met)
eforum.com $2,000 (reserve not met)
PrivateTime.com $600 (reserve not met)