521 people voted and the poll results are in: A third of domainer investors don't buy New gTLD domains but the other 2 thirds of domainers do buy them.
The first New gTLDs went live in January 2014 and about a month later this poll began. So now, 8 months and 521 votes later it is time for the results.
I have been watching the poll results in the past few months. The people that don't buy New gTLD domains were at about 40% in the first 1-2 months. Then the percentage of people that don't buy New gTLD domains dropped to about 33-34% and remained there for the past 3-4 months.
Here are the final results from the 521 voters: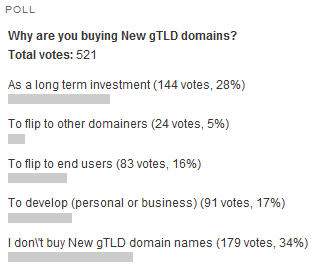 Here are some more detailed results derived from the poll:
66% of domainers (342) are buying New gTLD domains
34% of domainers (179) have not bought any New gTLD domains
27% of the people that buy domains, buy them to develop
73% are buying the domains to resell
31% of the people that buy them are looking for a quick buck (flip)
69% are buying as a long term investment or development
At first I was expecting more of a 50-50 divide between domainers that buy and don't buy New gTLD domains but I was wrong.
I think that a few domainers changed their minds a couple of months after the launch or when better extensions or extensions that suited their niches started coming out.
I believe that if the poll was conducted now the percentage of those buying New gTLD domains would be more than 70%.
All in all the numbers look healthy so early in the New gTLD program except of those that are looking for a quick flip. This is very difficult to do in such a new market.
Now it is time to check the domainer's intentions on New gTLD domain renewals. About 290 have voted so far and the percentage saying that they don't have any New gTLDs is at 28%.
If you want to see what domains people are registering take a look here. There are over 500 comments from readers.
(I assumed that more than 95% of the people that voted are domain investors.
The poll has less than 4.4% margin of error but it is not a scientific poll by any standards.)