We are now just a week away from the first anniversary of the New gTLD program launch.
It all started when 7 New gTLDs from Donuts were released on the 29th of January 2014. That is when the 7 extensions (.bike, .clothing, .guru, .holdings, .plumbing, .singles, .ventures) entered the EAP availability.
I started this poll (How many New gTLD domains will you renew?) 3 months ago asking readers if they intended to renew their new domains and what percentage they would renew. The poll has now ended and got 528 votes.
I  included 6 options in the poll: 100%, >50%, <50%, 0%, no domains to renew and one more I found important. That is what distinguishes New gTLDs from the legacy gTLDs: "I will only renew some non-premium domains". Premium domains are sometimes pretty expensive, up to thousands of dollars per year. From my research premium domains account for about 10% of the total of New gTLD domains. At least that is for the Donuts domains.
As a reference .com renewal rate is a little over 70%. So I think that anything above 50% would be good for New gTLDs.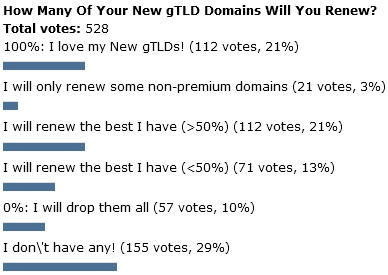 Here are some more detailed results derived from the poll:
29% of the voters said they don't own any New gTLD domains. The result of my previous poll asking if people were buying New gTLD domains found that 34% were not buying them. Maybe this lower percentage here is because some of the people that don't own any domains were not interested in a poll asking about renewals.
373 people from the 528 or 71% that voted own New gTLD domains
15% of the people that own New gTLD domains said that they will drop them all. Of course we don't know how many they own.
30% of the people that own New gTLD domains said that they will renew them all.
21 or 5.6% of people said that they will be dropping all their premium domains. I have seen some people trying to unload their premium domains.
55% of the voters said that they will renew their best domains
From the results above I would estimate the domainer renewal rate at about 60%. .Guru was at about 10% renewal rate about a month before the first domains expire. I would expect non-domainers to have a smaller renewal rate. Partly because they probably have domains of lesser quality and partly because they don't pay much attention to renewals.
So what I see happening is a renewal rate of around 50% or a bit less than that.Of course I am not counting all the free or $1 domain names. These will take a much bigger hit.
As I said anything above 50% would be a great result for any New gTLD extension but people tend to overestimate.
(The poll has a margin of error of less than 5% and it is not a scientific poll by any standards.)