I didn't want anything to do with these people even after I saw those photos of these ridiculous purple men at ICANN 51 in Los Angeles promoting the worst of the worst in New gTLDs.
But I am weak. I can't help it with these people. Now they are begging people to get free .xyz domains. Today, I came across this new .XYZ promo:
"OnlyDomains and the .XYZ domain registry are giving students the chance to win one of three pairs of Google Glass!
A pair of Google Glass will be awarded to the winner of each of the following three categories: Coolest Idea, Most traffic and Most "likes"."
"Simply fill out the email form and use the promotion code supplied in the reply email to register any .XYZ doman before the end of October and you will receive the first year of your new .xyz domain for free. Once you have your domain, you have until the end of November to create a cool website for a chance to win a Google Glass!"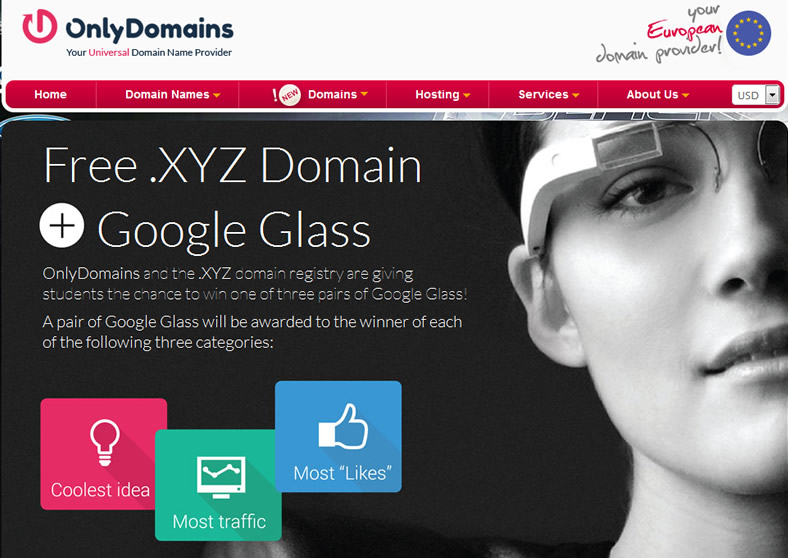 OnlyDomains.com seems like a decent registrar but if you get involved with .xyz a lot of bad things start happening. Network Solutions had given out 375,000 free .xyz domains. But everybody hates Network Solutions anyway so they don't have much to lose. Various other registrars, such as Tucows and a couple of Chinese registrars, have offered .XYZ domains at very cheap prices like $1.
I am really sorry for those people. We get it. You want to be the first to reach 1 million domains. Now, stop wasting your money! Nobody will give an award when you reach 1 million at all costs.
Pathetic.