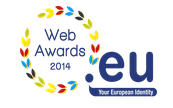 The .eu top-level domain finished Q2 with a growth rate of 4.2% year over year, according to the latest quarterly report released by the .eu registry EURid.
During Q2 2014, the number of .eu registrations
increased by 32 791 domain names, a net increase of 0.9%, to 3.83 million.
"Naturally we are pleased with the Q2 results, particularly as we find ourselves in a downward market, where new gTLDs are launched almost daily," commented .eu General Manager Marc Van Wesemael.
"With Croatia, Romania and Finland showing growth of more than 10%, this is a clear indication that .eu continues to be seen to be a reliable ex¬tension, a label of quality and trustworthiness."
The number of Internationalised Domain Names (IDNs) in the .eu portfolio at the end of Q2 2014 was 52 499, or 1.4% of all registrations. The number of IDNs as a percentage of new registrations is at the same level as that of other registries.
By the end of the quarter there were a total of 754 .eu accredited registrars, the top ten registrars accounted for 37.4% of all .eu registrations. During the second quarter, the total number of .eu registrations increased in 21 of the 28 EU member states. Croatia, Romania and Finland all saw growth of more than 10%.
The national ccTLD market in EU countries increased by 0.2% during Q2 2014, and grew by 2.9% from Q2 2013. Within the EU, the market for gTLD domain names such as .com, .net, .org, .info and .biz grew by 0.8% during Q2 2014 and by 4.2% from Q2 2013, according to statistics from Zooknic.
There were 229 129 new .eu registrations in Q2 2014. The number of new registrations was 12% higher than during the same months in previous years. During Q2 2014, there were 192 935 deletions. A domain name headed for deletion is quarantined for 40 days after the date specified in the deletion request. It can be reactivated during that period only at the request of the former registrant.
The quarantine period is a safeguard to prevent domain names from being deleted by mistake. The deleted name becomes available for general registration after the quarantine period. When combined, the new registrations and deletions for Q2 showed a net increase of about 400 names per day. The renewal rate during Q2 was 84%.
While registrations increased, the registry's carbon emissions decreased in the quarter. After establishing that it had emitted 0.38 kg CO2 –eq per domain name in 2013, EURid elected to compensate for this emission by contributing to a wind turbine construction project in Gujarat, India, and to an agroforestry project in the region of Kaffrine and Fatick, Senegal, that focuses on the production of biodiesel from Jatropha seeds.
Download the full quarterly report at link.eurid.eu/reports.