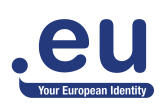 The latest progress report from the .eu registry, EURid, has shown that the total number of .eu domain name registered at the end of Q2 represented an increase of 0.7%, or 26 368 registrations, when compared with the total number at the end of Q2 2014.
During the second quarter, the total number of .eu registrations increased in 10 European Union and EEA member states. Croatia and Poland both saw growth of more than 6%.
The full report is available for download here.
EURid reports .eu status and progress every quarter. Each report includes .eu registration trends across all European Union countries, the countries of Iceland, Liechtenstein and Norway, and a summary of the quarter by the General Manager. Please note, these reports are available in English only.