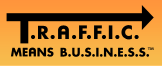 The 10th anniversary T.R.A.F.F.I.C. show will feature the Opening Cocktail Party, the networking event that launched an industry back in 2004 to the Masquerade Ball and dinner to the Industry Awards Ceremony, special guest speakers and the "Rick Schwartz Roast" that Rick promises that will be talked about for years.
Prices for
T.R.A.F.F.I.C
. go up on October 1, however they are extending the $1295 price until Friday. at 6PM. Hotel Room rates will also be going up significantly.
And as a special bonus if you sign up before Friday T.R.A.F.F.I.C. will give you a link to watch and listen to Howard Lefkowitz of Vegas.com fame at the TRAFFIC Las Vegas show last spring.
There is also a T.R.A.F.F.I.C. contest. Just send by return email a brief essay or video about "How attending T.R.A.F.F.I.C. has helped to change my life." The winner gets a free ticket to the Miami show, or a free ticket to next year's show or a refund of the ticket if they already paid. Plus the first night at the hotel for free!! In addition the winner gets a limo pick  up at the airport.
Here is the complete announcement from Rick Schwartz:
Prices for

T.R.A.F.F.I.C

. go up on October 1, however we are extending the $1295 price until Friday. at 6PM. 

Hotel Room rates

 will also be going up significantly. So this is your last call before rising rates and a sold-out hotel.

And as a special bonus if you

sign up

before Friday we will give you a link to watch and listen to Howard Lefkowitz of V

egas.com

 fame at the TRAFFIC Las Vegas show last spring. Howard was one of the most electrifying speakers  we've ever had. The seminar is worth the price of admission alone and you'll see the kind of bang for the buck you get at T.R.A.F.F.I.C.

It IS priceless and those that have never come to TRAFFIC will quickly see what I mean.

And speaking of "Priceless", that brings me to the T.R.A.F.F.I.C. contest. Just send by return email a brief essay or video about "How attending T.R.A.F.F.I.C. has helped to change my life."

The winner gets a free ticket to the Miami show, or a free ticket to next year's show or a refund of the ticket if they already paid. Plus the first night at the hotel for free!! In addition we will have a limo pick you up at the airport.

Second Prize is a FREE Hotel room for 2 nights and the third prize is a hotel room for 1 night less taxes and fees. ALL those that send an entry but don't win will receive honorable mention and deep and sincere thanks from all of us.

.

All I know and I can tell you is that our 10th anniversary show is going to be a bash that few in the domain industry will ever forget. From our Opening Cocktail Party, the networking event that launched an industry back in 2004 to the Masquerade Ball and dinner to our Industry Awards Ceremony to our special guest speakers and the "Rick Schwartz Roast" that will be talked about for years.

The 

agenda

 will be done next two weeks and panels will be populated the following 2 weeks.

An agenda geared to giving you real answers to tough questions and staying ahead of the curve. We have nothing to sell but progress. That happens with vigorous debate covering ALL sides of an issue not just ones panelists are comfortable with. So if hardball scares you……..we will show you how to overcome your fear with knowledge which turns into power.

We hope you join us for this historical and memorable event. Why? Because it is in your self interest to expand your business and network with the top names in the industry. We keep the noise out and the business in because T.R.A.F.F.I.C. Means B.U.S.I.N.E.S.S.

This will be one for the record books and will be the last TRAFFIC show that I produce. TRAFFIC will still go on, but time for me to move on. Besides, we will have the best food we have ever served and taking place at the world-famous Fontainebleau Hotel in Miami Beach . Truly one of the great hotels of the world!!  Reward yourself!! You deserve it! Come celebrate with us!!

Rick Schwartz