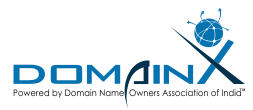 The DOMAINX 2014 domain name conference starts today, the 7th of September, in India. The conference that is being held for the first time is hosted by the Marriott Hotel & Convention Centre in Hyderabad.
Speakers in the conference include Vinit Goenka, Michael Castello, Adam Dicker, Ron Jackson, Michael Gilmour and Morgan Linton among others. Some will speak remotely.
DomainX is powered by the Domain Name Owners Association of India(DNOAi). "DNOAi is the first (in India) privately held association of similar minded domain name owners who have joined hands in order to bring investment, monetization and general awareness towards the domain name sector as well as web development industry."
"DOMAINX™ is the 1st dedicated International Domain Name Conference to bring awareness and educate people about the domain name industry in India. This shall further help in developing an environment for investment and monetization in the domain name industry in the country."
"At DOMAINX™, there will be an opportunity to develop, share and innovate through networking with other experienced professionals who are in the domain name business. DNOAi™ (Domain Name Owners Association of India™), being the pioneers in India, look forward to bridge the gap and bring in mass opportunities between domain name industry, startup sector, online advertising, affiliate marketing, social media and more with the help of DOMAINX™ Conference."
"With over 16+ International and National industry leading experts confirmed as speakers, DOMAINX™ 2014 Conference is going to be a path setting event for industry in the Indian history."
The conference is sponsored by GoDaddy.com, Verisign.com, Neustar.biz, Dot.asia, DomainGraffiti.com, Uber.com, eMail.biz, INforum.in, DesigningTips.com, StartupHyderabad.com, DNForum.com, MorganLinton.com, DNJournal.com, TheDomainer.net, CyLaw.in, EasyTech.in and DomainDispute.in.