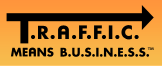 T.R.A.F.F.I.C. announced the Nominees for the 2014 T.R.A.F.F.I.C. AWARDS.  Each of these Nominees received nominations from at least 3 individuals.
While nominations are open industry wide, voting is not. You MUST be on the TRAFFIC mailing list to vote and have your vote counted. If you received this ballot, you are on the list. If not, you are NOT on the list. Subscribe to nominations@targetedtraffic.com by Friday September 12th to be eligible to vote.
Escrow.com will be counting and certifying all votes. Voting dates and specific rules will be announced soon. Voting will be over a 2 day period for the first time.
Congratulations to all the nominees!! Well done! 
DEVELOPER OF THE YEAR
Michael Cyger, Adam Dicker, Alan Dunn, Morgan Linton, David Roth, Tia Wood.
Honorable Mention goes to the following, who received 2 nominations each – Merlin Kaufmann, Braden Pollock, Beyond the Dot LTD, (HK)
BROKER OF THE YEAR
Ryan Colby, Mark Daniel, Domain Guardians, Dave Evanson, Tracy Fogarty, Alan Hack, George Hong, Andrew Rosener, Amanda Waltz
Honorable Mention goes to the following, who received 2 nominations each – Jeff Gabriel, Joe Politzer, Richard Trainor, Igloo, Toronto Domainer
BLOGGER OF THE YEAR
Andrew Alleman, Michael Berkens, Shane Cultra, Michael Cyger, DomainerIncome, Ron Jackson, Elliot Silver
Honorable Mention goes to the following, who received 2 nominations each – Morgan Linton, Michael Gilmour
MOST PROMISING NEW gTLD
.CLUB, Dot Chinese Online, .EMAIL, .GURU, .LINK, .NYC, .WEB, .XYZ
Honorable Mention goes to the following, who received 2 nominations each – .Online, .Fail
BEST MARKETING OF NEW gTLD
.CLUB, Donuts, TLD Marketing, .XYZ
BEST OVERALL DOMAIN SOLUTION
Bidtellect, Domain Name Holdings, DomainNameSales.com, Escrow.com*, GoDaddy.com, IPNeighborhood.com, ParkLogic.com, RookMedia.net, Uniregistry
Honorable Mention goes to the following, who received 2 nominations each – ParkingCrew.com, Flippa
SPONSOR OF THE YEAR
Above.com, .CLUB, Escrow.com*, EscrowHill.com, Guta.com, InternetTraffic.com, NamesCon, RookMedia.net, TrafficZ.com, Uniregistry
DOMAINER OF THE YEAR
Adam Dicker, Michael Gilmour, Simon Johnson, Ilze Kaulins-Plazkacs, Rick Schwartz (declined), Adam Strong
Honorable Mention goes to the following, who received 2 nominations each – Sahar Sarid, Andy Booth, Richard Lau, Alan Dunn, Niko Younts
DOMAINER OF THE DECADE
FRANK SCHILLING
BANDIT BERKENS GOODWILL AMBASSADOR
Michael Castello, Michael Cyger, Adam Dicker, Michael Gilmour, Ron Jackson, Vern Jurevich, Richard Lau, Gregg McNair, Barbara Neu
Honorable Mention goes to the following who received 2 nominations each – Alan Dunn, Nat Cohen
DOMAIN HALL OF FAME
John Berryhill, Gary Chernoff, Michael Cyger, Alan Dunn, John Ferber, Michael Gilmour, Rob Grant, Simon Johnson, Ilze Kaulins-Plazkacs,  Ammar Kubba, Roy Messer
*Update: Escrow.com has since withdrawn their name from voting. Company President Brandon Abbey said, "As a previous winner, Escrow.com is very honored to have been nominated in multiple categories for the 2014 T.R.A.F.F.I.C. Awards. When Rick and Howard asked us to counts the vote it was never our intention to be eligible for an award.  However, as the keeper of the ballots we need to be completely transparent and impartial.  It would be inappropriate for us to be eligible to win this award.  Thanks to all for your continued trust and support."