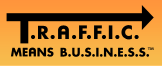 T.R.A.F.F.I.C. announced the Nominees for the 2014 T.R.A.F.F.I.C. AWARDS today.
Here a few thoughts I had after I read the nominations list:
People seem to be tired of awards. Not a lot of votes were sent. And just 2 months back the Domainers Choice Awards were given out. Especially in a small industry like the domain name one anything more than 1 award ceremony per year is too much.
Maybe it was that the nominations had a small time window to be submitted (just 3 days) and a lot of people are on vacations at this time of the year.
I forgot to vote. I admit it. I am on vacations so I have some small excuse. It was Saturday when I realized it.
There are some people and companies in there I have never heard of. Were people voted by their colleagues in some of the these companies? Were people voting for their own companies? These should be banned.
.XYZ nominated in 2 categories? BEST MARKETING OF NEW gTLD? Who voted for .xyz? Network Solutions? lol
I believe the .fail nomination on the "Most promising New gTLD" category was meant as a joke.
Are there some people missing from the nominations. But I can only blame myself because I forgot to vote.
I got 1 vote. I know because the person that voted for me told me. So I know that all other people didn't vote for me. 🙂
Companies that are giving out free domains are voting for themselves.
OK Daniel. Nominations are now over. Please stop voting for .xyz.
PS1: A reader suggested that since escrow.com is counting the votes it should not be nominated. I agree.
(Update: Escrow.com has since withdrawn their name from voting. Company President Brandon Abbey said, "As a previous winner, Escrow.com is very honored to have been nominated in multiple categories for the 2014 T.R.A.F.F.I.C. Awards. When Rick and Howard asked us to counts the vote it was never our intention to be eligible for an award.  However, as the keeper of the ballots we need to be completely transparent and impartial.  It would be inappropriate for us to be eligible to win this award.  Thanks to all for your continued trust and support.")
PS2: Rick is doing a great job regardless. I just think a few more days were needed including a Monday.