Most domainers that register, renew, buy or sell domains or doing domaining related business like hosting on the internet use Paypal on a daily basis.
There are some registrars that use the Paypal "Preapproved Payments" to charge you for domain auto-renewals. How this works is that you agree that a registrar can charge your paypal account up to certain amount every month for the auto-renewals.
There also many services like DomainTools or FreshDrop that

use paypal for monthly recurring billing.
But if you no longer use the services or not doing auto-renewals there is no point that you have these Preapproved Payments active in your paypal account because anything can happen. A hacker could get access to an account you no longer use and start making purchases using that Preapproved Payments.
In my case I don't do any auto-renewals with Go Daddy, Network Solutions or Enom so I deleted these Preapproved Payments so even if I forget to set a domain to "auto-renewal off" I would not get charged. (Of course you should make sure you don't have any credit cards on file at the registrar too.)
I checked my Paypal account today and I found 8 "Preapproved Payments" of which I only use 3: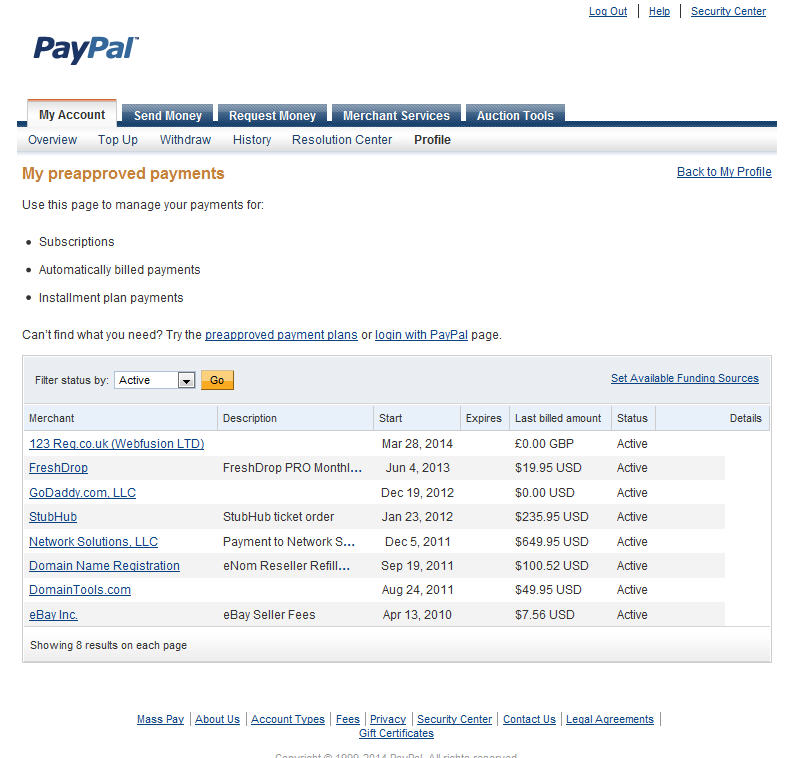 So I deleted the other 5 (some where as old as 4 years) and I am safe that I don't get charged without knowing. I am not interested in doing any Network Solutions renewals, thanks.
Use the following steps to cancel a Preapproved Payment Billing Agreement:
Log in to your PayPal account.
Click Profile at the top of the page.
Click My money.
Click Update in the My preapproved payments section.
Select the merchant's name or email address.
Click Cancel.
Of course I kept my DomainTools and FreshDrop subscriptions and Ebay that I sometimes use.
P.S. StubHub was used to get tickets to Spiderman on Broadway. 🙂 It has been 2 years since I was in New York. I need to go back soon…