Guru.com, a freelance marketplace, is the big winner from the first New gTLDs roll out in the past couple of weeks that included the .guru New gTLD. Up until now .guru is by far the most popular New gTLD and this will have a more than positive effect on guru.com.
Guru.com took advantage of this added attention, that was bound to happen, since Donuts announced it's application for the .guru New gTLD. The guru.com website was completely redesigned and was revealed on the 2nd of February 2014. That was just 4 days after .guru was made available to the public. Donuts New gTLD .guru entered the Early Access Program (EAP) general availability on the 29th of January and the proper general availability on the 5th of February.
This was certainly not a coincidence. A redesign of this caliber was planned months in advance.
Since .guru is aimed at consultants, experts, bloggers and freelancers it is more than certain that guru.com will get a lot more traffic since it targets the same demographic. New .guru registrants will discover what guru.com can offer to them and many visitors searching for a .guru website will end up at guru.com and find the freelancer they are looking for.
Guru.com made a small announcement on it's Twitter feed on February 6th:

The new design is a big upgrade from the previous one: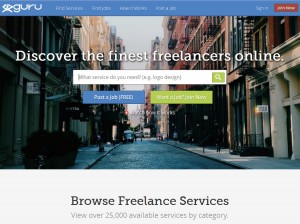 Guru.com is a freelance marketplace. It allows companies to find freelance workers for commissioned work. It was founded in 1998 in Pittsburgh as eMoonlighter.com and still headquartered there. eMoonlighter.com bought the Guru.com domain name and logo from Unicru, and eMoonlighter was renamed Guru.com. Guru.com directly connects businesses and employees in 160 different fields.