I was trying to figure out if Go Daddy has changed anything in how it treats domain names listed for sale in Afternic and Sedo (partnership soon to end) in Go Daddy auctions. Still the domain names are treated like being in auction and an end user is sent to Go Daddy Auctions when searching for a domain name at Go Daddy AND the domain name is listed in one or both Afternic/Sedo marketplaces. This perpetual 80 day auction has always been a problem to me.
Go Daddy treats domains from the Domain Name Sales/GoDaddy syndication differently. It redirects an interested party to a form where he/she enters contact details and these details are then sent to a Domain Name Sales broker. Actually I had a few problems with that as well.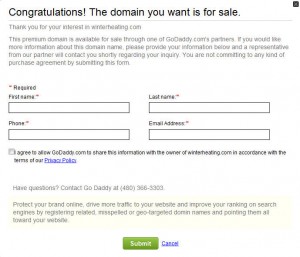 I chose my domain name uninstaller.com to test this integration and that was clearly a poor choice as it turned out later…
To make things clear from the start. I don't have the domain listed at Go Daddy. I don't have the domain name listed at the DomainNameSales and I have stopped the GoDaddy syndication. I don't have the domain listed at Afternic. I only have the domain listed at Sedo with no Buy It Now price and with a minimum bid of 10,000 Euro. (about $13,600)
I enter uninstaller.com in the Go Daddy search and this is what I get: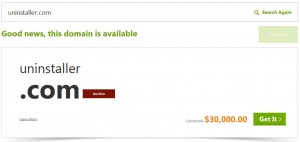 Good news, this domain is available
uninstaller
.com
Auction
Current bid $30,000.00
Get It
I click "Get It" and I get:


uninstaller.com
Price: $30,000
Offer $19,500 or more
or Buy Now for $30000
Time Left: 56D 3H
Auction Ends: 2014/03/27 09:16 AM (PST)
Price: $30,000
Sale Type: Offer/Counter-Offer with Buy Now
Bids/Offers: 0
Views: 11
At this point I thought that the domain could still be listed at Afternic by the previous owner so I visit Afternic.com. So I found it on Afternic listed with a $30000 Buy Now price and a minimum offer of $10,000. Probably from the previous owner.
Although this explains the Buy Now price it doesn't explain the $19,500 minimum offer at Go Daddy. It seems that this minimum offer price doesn't come from anywhere.
I then tried to add uninstaller.com in my Afternic.com account but I got a message that the domain is already listed on Afternic but not an option of what to do next. I sent an message to support and wait for their reply. 2 days later and no reply.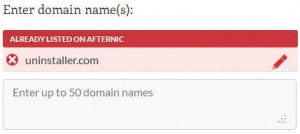 So if this isn't confusing then I don't know what is. And maybe I can figure this whole mess out but what about regular end users searching for domains at Go Daddy?
A potential buyer will see that my domain name is at an Offer/Counter-Offer with Buy Now Auction that ends in 56D 3H and the auction price is $30,000 although there are no bids.
It is an auction but not an auction. It has a price but no bids. It's an Offer/Counter-Offer with Buy Now that ends in 56D 3H.
Go figure.