For the past couple of months I have been testing the domain parking and domain sales platform at InternetTraffic.com. Results are pretty good and the only thing missing is a generic lander. Internet Traffic is accepting sign ups so anyone with a clean portfolio can submit an account request. Internet Traffic and its Domain Name Sales platform (DNS) operate a clean network of generic names for sale and monetization. Ensure that the list you submit is pre-scrubbed of any  domains that contain trademarks and any other intellectual property risk.
My PPC test sample is very small (about 60 domains) but results are good so far. Not excellent but promising. Some domains are earning more than what they used to and others need some more optimization.
I am getting some interest on the domains I have parked at InternetTraffic.com (about 10 in a month) but I have yet to receive an offer. I have tried both sending offer requests and quotes but I haven't gotten an offer so far. My minimum offer price is set at $1000 for all domains so these buyers might get discouraged by that. Anyway, 60 domains is not a proper test sample. I will do more testing as I point more domains at IT.
InternetTraffic.com pays PPC earnings approximately net 30 from the end of a given month. For example, they will pay November earnings at the end of December. The minimum earnings to be paid is currently $100. Payment options include Paypal and Wire Transfer. InternetTraffic.com can not send ACH payments, as they are not located in the United States.
My only complaint so far is that Internet Traffic doesn't offer a truly generic lander. If you choose the General category and the General Sub-category you end up with a lander that is mostly focused on business and financial terms: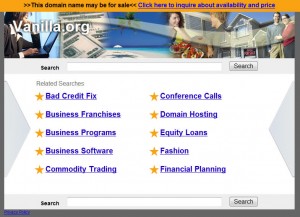 I am looking for a lander that offers a broader range of categories like the ones offered by other parking companies: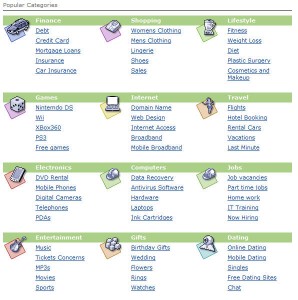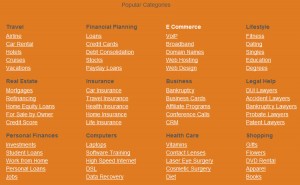 The people at Internet Traffic are working on creating a category like this. My support ticket requesting a more general category will be left open by Internet Traffic support until this category is created. That is some first class support!
I am also waiting for an Android app. Internet Traffic will not create this app until the iPhone app has matured and is widely used. Iphone owners please start using the app!!!
After my post yesterday about how Go Daddy is destroying domain sales with Sedo's help, a good alternative is needed and Internet Traffic seems like the best bet.