Afternic's highly anticipated redesigned website is finally here and this is my review. First of all I have to say that the new Afternic looks a lot better that the old one. The old Afternic website was kind of dull and uninviting to both sellers and buyers for the past couple of years. I think older versions of the website looked better than the latest version that is now gone forever.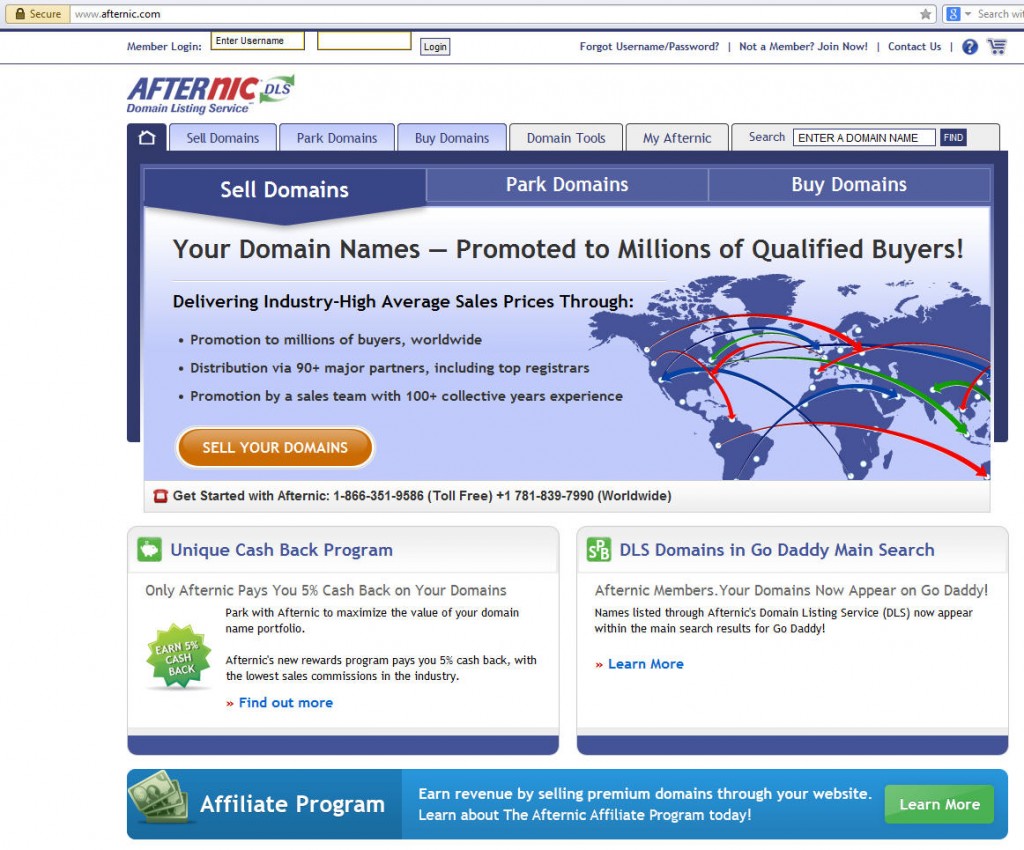 The new redesign brings the website's aesthetics up to speed, if not ahead of Afternic's competitors. The functionality and user experience have also been improved.
The first screen looks sharp and has everything one would seek from a domain aftermarket website like Afternic.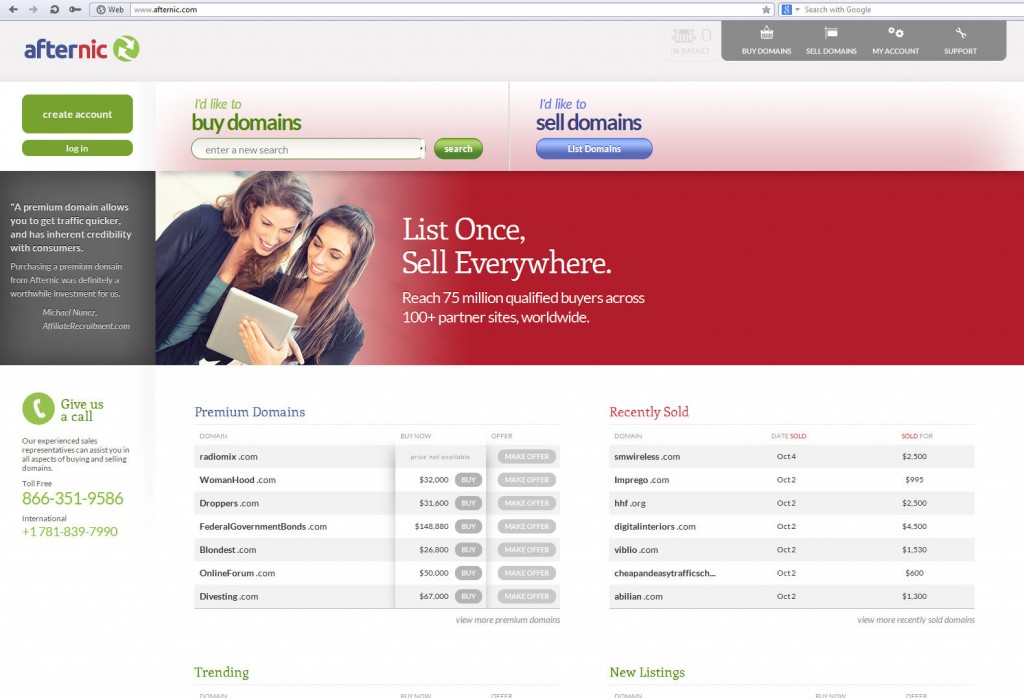 You can see the 4 distinct lists of domains at the center of the landing page:
Premium Domains
Recently Sold
Trending
New Listings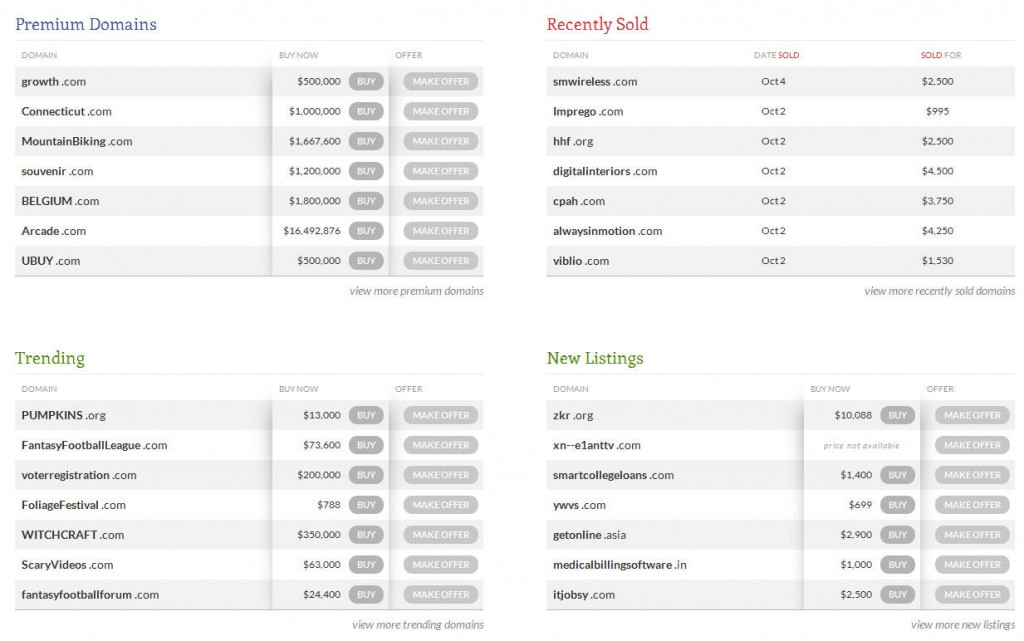 Trending is a nice touch. It features domains for sale that are most popular at this time. For instance you can see a lot of Halloween related domains featured as Halloween is coming soon. Here is how Afternic describes this new list:
Featured here are our top trending web domains: the domains which are gathering the most interest at this time. These popular web domains can provide a great jumping off point to discover what other buyers are interested in as you begin the search for your perfect domain, or you may even find what you?ve been looking for right here. Keep an eye on these trending web domains to stay ahead of the crowd.
("Scroll for more results" doesn't work for me at Trending and at Premium Domains pages but maybe that are no more domains available at the moment)
At the top there is a menu that helps a visitor buy or sell domains, get an appraisal, access or create an account and get support. You also find the new shopping basket next to the menu.



At the bottom of the landing page one can find the total of domains that are featured in Afternic, the usual twitter updates and links to social media. Below that, you can find quick links to most of Afternic's key features.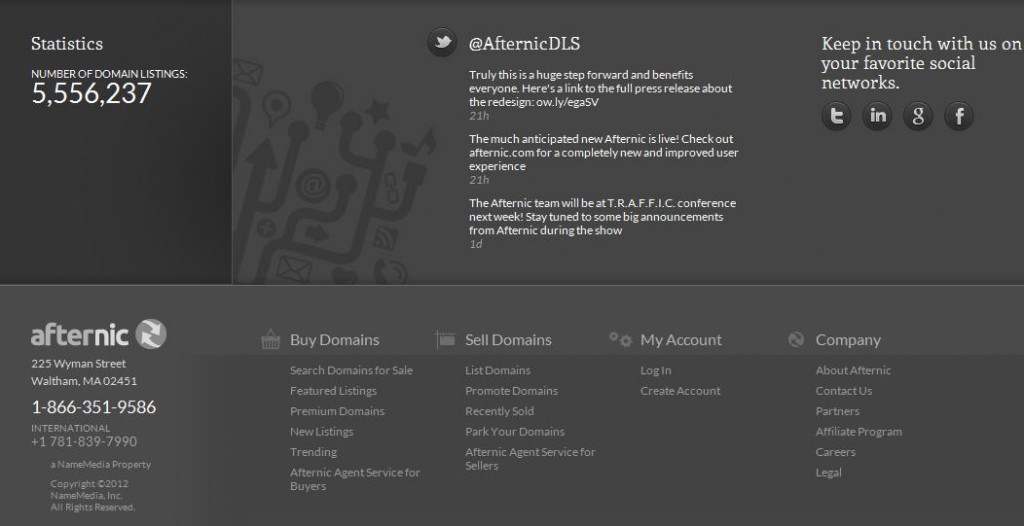 Let's now proceed to the actual functionality of the website. Just below the Afternic logo and the top menu, you can find the domain search function which is the heart of every domain name aftermarket.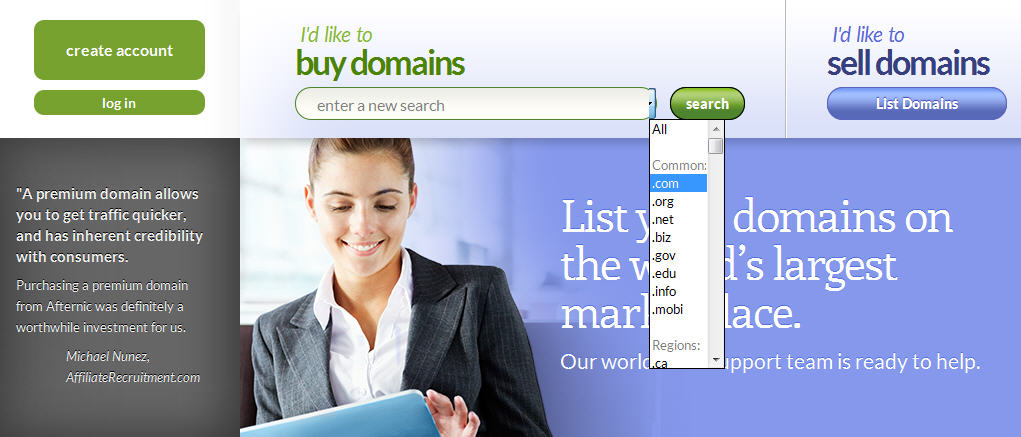 At first glance I had two problems with this search function. When you get to choose the extension you want to search for, you get .gov and .edu at the "Common" list. From what I know .gov and .edu are not that common (in terms of number of domains registered) nor they are for sale in the domain aftermarket. Also "Polular" domains include a couple or restricted TLDs as well. My second problem is that .us is buried at the bottom of the list. It is not in the "Common", the "Regions" or the "Popular" list. It is at the bottom of the "More" list. I think that .us deserves to be at least in the "Regions" list if not at the "Common" list.
After you search for a domain name a new screen comes up showing all available domains that match your search. You can refine your search at the left hand side by adding more keywords, selecting domain extensions, setting a price range, setting the number of characters, choosing categories and a few more options. The 2 options that are missing are the "starts with" and "ends with" options that are quite useful when you know exactly what you are looking for.

Your exact matches (if any) come up on top together with their buy it now prices (if any). Below the exact matches you can find other domain names that might interested you.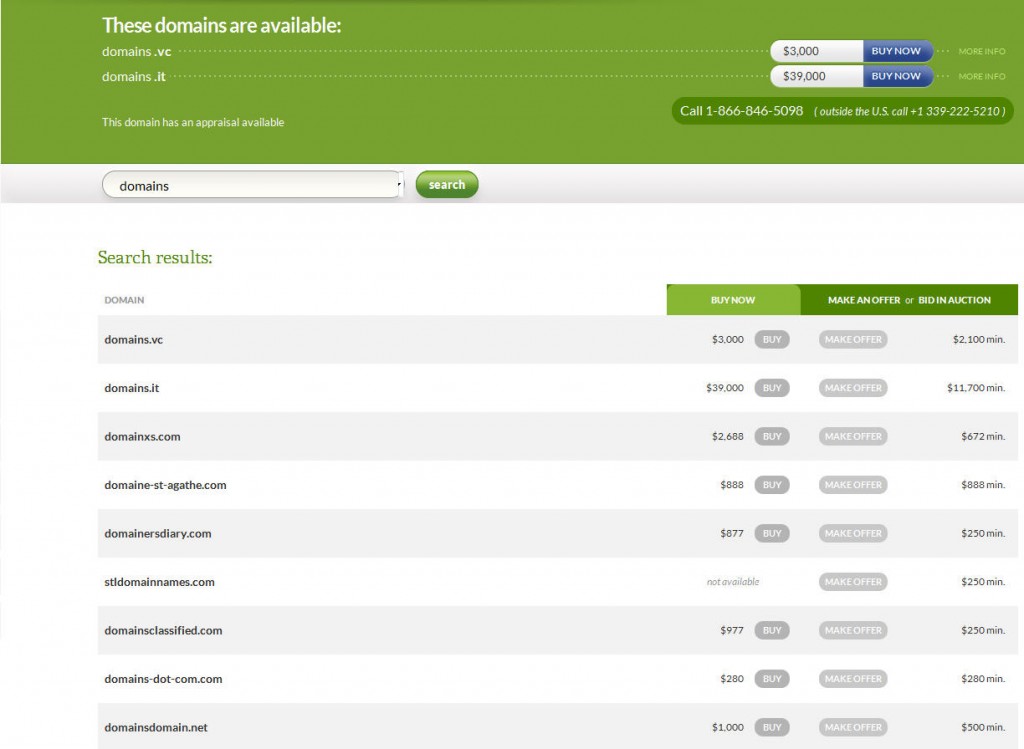 This brings me to another problem. This list has a "buy now" and next to is it says: "Make an offer or bid in Auction". The "bid in auction" price is the minimum offer amount that is set by the seller for each domain. It is in no way an invitation for a buyer to start an auction. The default minimum price at afternic is $250 and this price appears in a lot of domains. This gives the impression to the buyers that they can bid $250 and start an auction! This is pretty bad and I can assure you that none of my domains will be in this kind of auction. I just hope Afternic clarifies this option to the buyers so they don't assume that an auction is going to start with a $250 offer or better yet I would
suggest that Afternic removes this entirely. At least an opt out option would be useful. This is my first deal breaker.
At this point you can either buy the domain you are interested in or click on a domain to see more info. At the "more info" page you can see some details about the domain name and more importantly a lot of details about the seller. As a matter of fact you can see a photo of the seller (if seller has uploaded one), their login name, when did they become an Afternic member, how many domains they own and you can also find a link to a list of all their domain names listed at Afternic. This is a totally unwanted feature (to me anyway) and I will be closing my account if this does not change. An opt out is again not currently available. And this is my second deal breaker. Sedo has an option to generate a profile link to all your domains and allows you to distribute it as you wish and generate a new one so that the old profile link doesn't work any more.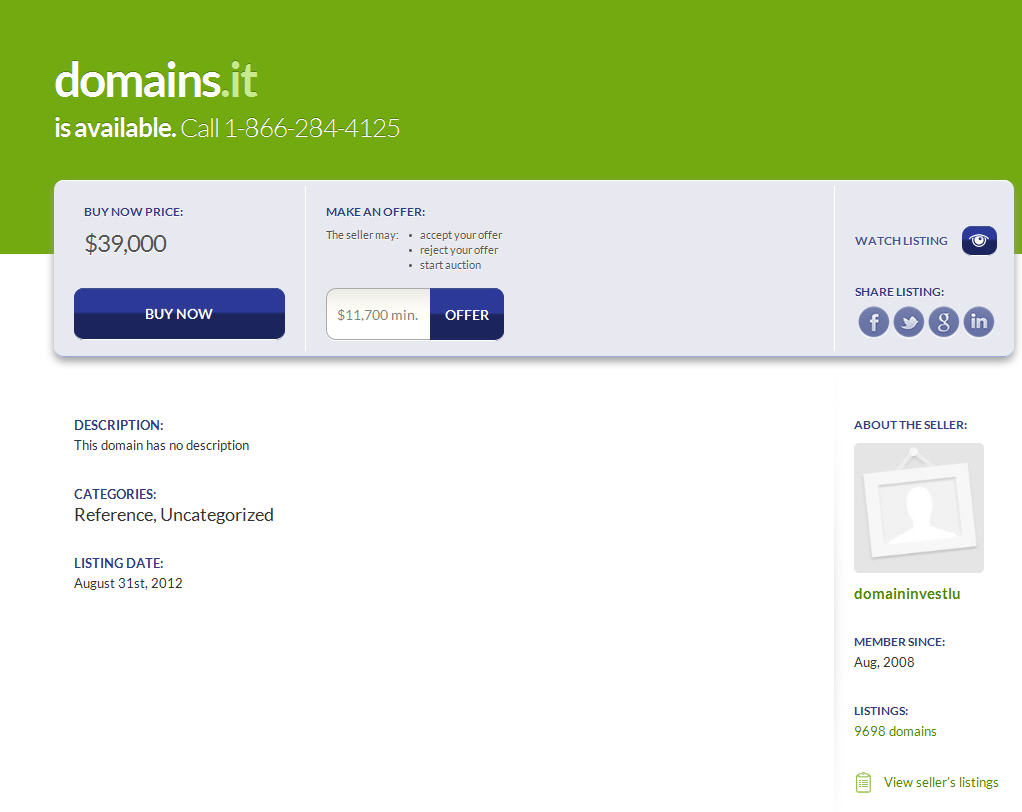 Now let's go into "my account". After you login you see your dashboard that includes several distinct sections:
Account Summary (with reports on earnings from domains sold and earnings from parking revenue along with a few statistics)
Announcements (from Afternic)
My Domain Purchases
My Domain Sales
Offers Received (You can only see active offers on the dashboard. You have to click on "history" to see any older ones but I can only see a single offer from September. Are older offers going to be available or are these lost forever?)
Offers Made
Price Request (Domains for which you have to set a price. This is not working for me. I am supposed to have 2 domains that need pricing but once the second one appeared the first one disappeared from my list. Also clicking on the one doming that is showing, in order to set the price returns an error message for me.)
There is also the notification center at the top where you can find any messages send by Afternic or other users. This is in desperate need of a "delete all" button because I currently have 4860 messages and each screen displays only 10. I would have to go through 486 screens to delete all of these messages. I am never doing this.
After the dashboard there is the portfolio option at the left menu. This page has a list of all your domain names at afternic along with the usual options to set prices, appraise, promote, park domains and a new option that you can use to hide a domain name from Afternic listings. The problem is that there is no option to sort by status so you can find all your hidden domains at once and you can't see what domains are in "pending review". I know I had 4 domains stuck in "pending review" that I can't find now. Also trying to edit any domain got me to a "Oops! Sorry, you can't edit this domain." page, so I believe the Afternic is broken at the moment.

Then there is a menu option that takes you to a page where you can add domains in batches of 50 or by using a spreadsheet that is really useful.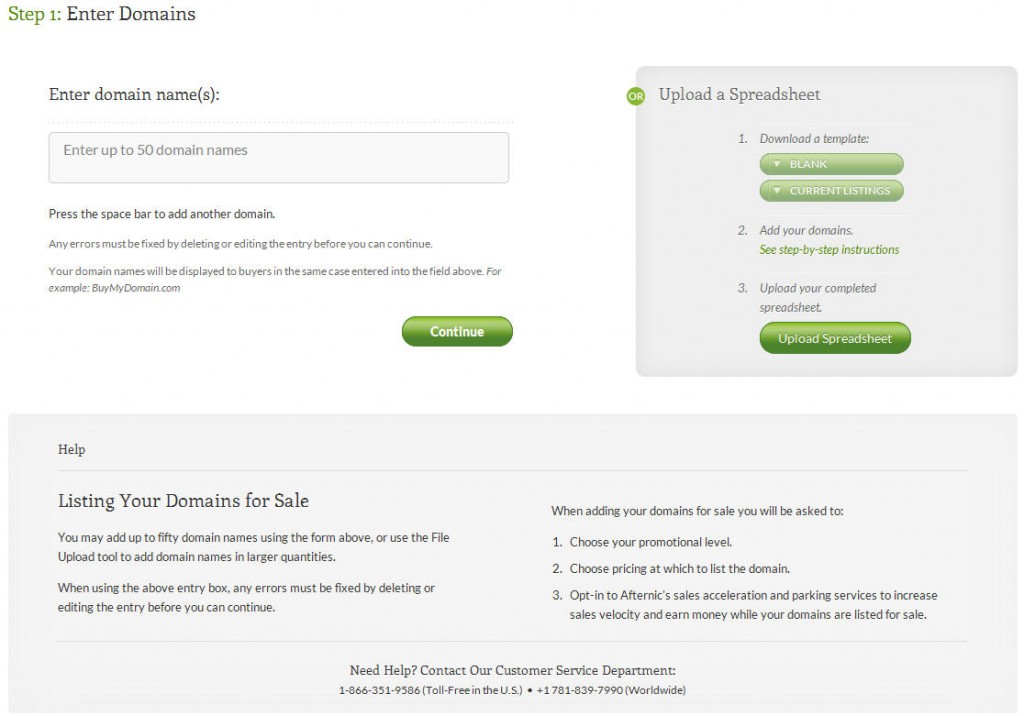 Then there menu options for domains that you have sold, purchased domains and domains with offers but all these pages are available at the dashboard also.
Finally at the bottom of the menu you can find the account details where you can change your name, address, contact details, payment methods, your password and this is where you can add that profile photo I mentioned above. The "profile" section only has the option to add the profile photo and nothing else.
So all in all this redesign seems to be a step forward but with a couple of steps backward that can be fixed though. I only wish Afternic had a "beta" version of the website because I see a lot of problems. Hopefully these will be fixed soon.
Afternic says that the new website "Truly this is a huge step forward and benefits everyone." but I don't think it benefits sellers and their privacy. If my two deal breakers are not properly addressed then I going to be closing my account. Sorry Afternic.