Squadhelp released its 2021 report. Their premium listings grew from about 70,000 listings at the beginning of 2021 to about 123,000 listings at the end of the year. This represents about 71% growth in the number of listings at about 10-12% approval rate.
In 2021, Squadhelp spent more than $2M in digital marketing to bring over 23.5 Million unique visitors to the platform. This represents an 85% increase in Marketing spend compared to previous year, and about 78% increase in visitors from previous year. As a result, our Marketplace revenue increased by 123% compared to previous year.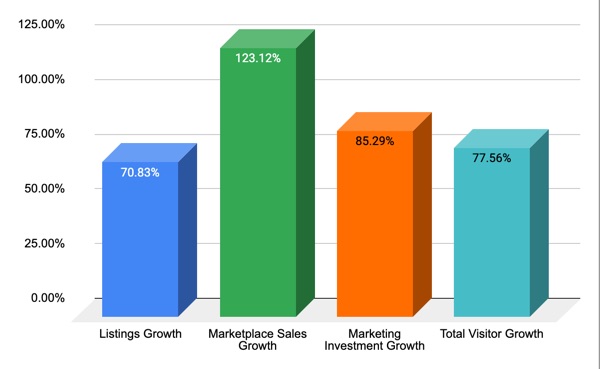 Summary:
Unique Marketplace Visitors: 23.5 Million (+77.5%)
Net New Users: 23.38 Million (New users is an important metric because it means that more than 90% of visitors being brought to the platform are new buyers who are potentially looking for a name)
Premium Listings: 123,000 (+71%)
Marketing Investment: > $2M (+85%)
Marketplace Revenue: +123%
Number of Extensions Registered
The buyers typically do not purchase domains based on number of extensions taken. However if a domain is registered in multiple extensions, it usually signifies a higher quality, and therefore it is much more likely that those domains will resonate with potential buyers. In addition, if end users develop their businesses in non .com extensions, it is much more likely that they will upgrade their domain to a .com down the road.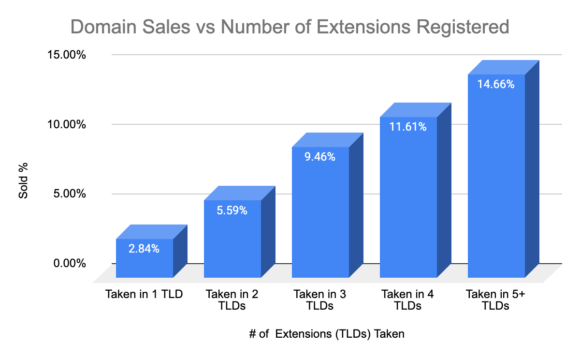 Top Searches
Here are the most popular terms that were searched in our Marketplace during 2021. It is interesting to see that "Meta", "Metaverse", "NFT", "Verse" and "Crypto" made it into the top 25 searched terms.
clothing
tech
meta
metaverse
go
real estate
bet
finance
nft
food
luxury
pay
medical
crypto
travel
co
insurance
mortgage
beauty
data
agency
health
fashion
verse
fintech
You can read the complete report here.