This past May, Google announced that page experience signals would be included in Google Search ranking. These signals measure how users perceive the experience of interacting with a web page and contribute to an ongoing work to ensure people get the most helpful and enjoyable experiences from the web. In the past several months, we've seen a median 70% increase in the number of users engaging with Lighthouse and Page Speed Insights, and many site owners using Search Console's Core Web Vitals report to identify opportunities for improvement.
Here is the Google Announcement today:
Today we're announcing that the page experience signals in ranking will roll out in May 2021. The new page experience signals combine Core Web Vitals with our existing search signals including mobile-friendliness, safe-browsing, HTTPS-security, and intrusive interstitial guidelines.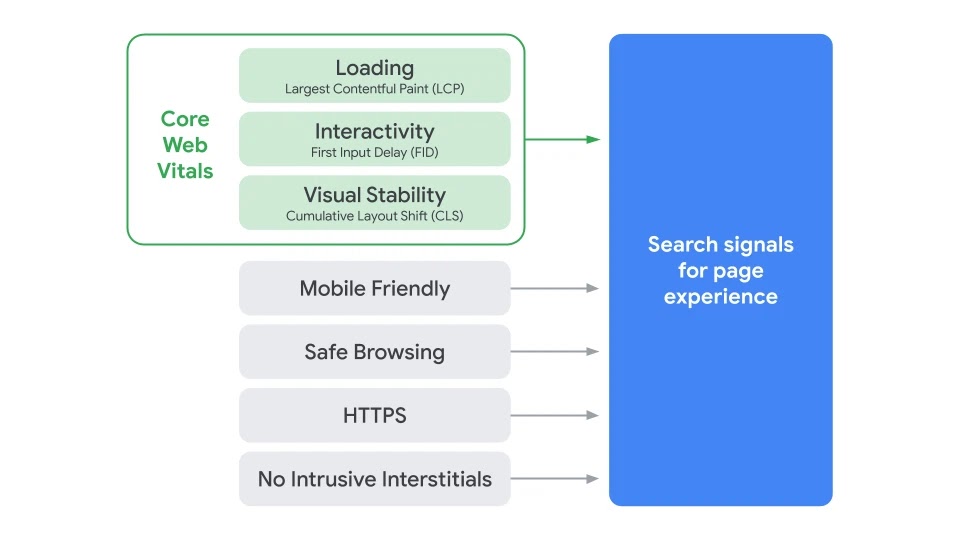 The change for non-AMP content to become eligible to appear in the mobile Top Stories feature in Search will also roll out in May 2021. Any page that meets the Google News content policies will be eligible and we will prioritize pages with great page experience, whether implemented using AMP or any other web technology, as we rank the results.
In addition to the timing updates described above, we plan to test a visual indicator that highlights pages in search results that have great page experience.
A New Way of Highlighting Great Experiences in Google Search
We believe that providing information about the quality of a web page's experience can be helpful to users in choosing the search result that they want to visit. On results, the snippet or image preview helps provide topical context for users to know what information a page can provide. Visual indicators on the results are another way to do the same, and we are working on one that identifies pages that have met all of the page experience criteria. We plan to test this soon and if the testing is successful, it will launch in May 2021 and we'll share more details on the progress of this in the coming months.
The Tools Publishers Need for Improving Page Experience
To get ready for these changes, we have released a variety of tools that publishers can use to start improving their page experience. The first step is doing a site-wide audit of your pages to see where there is room for improvement. Search Console's report for Core Web Vitals gives you an overview of how your site is doing and a deepdive into issues. Once you've identified opportunities, Page Speed Insights and Lighthouse can help you as you iterate on fixing any issues that you've uncovered. Head over to web.dev/vitals-tools for a roundup of all the tools you need to get started.
Additionally, AMP is one of the easiest and cost-effective ways for publishers looking to achieve great page experience outcomes. Based on the analysis that the AMP team has done, the majority of the AMP pages achieve great page experiences. If you're an AMP publisher, check out the recently launched AMP Page Experience Guide, a diagnostic tool that provides developers with actionable advice.
We continue to support AMP content in Google Search. If you publish an AMP version of your content, Google Search will link to that cache-optimized AMP version to help optimize delivery to users, just as is the case today.
Conclusion
At Google Search our mission is to help users find the most relevant and quality sites on the web. The goal with these updates is to highlight the best experiences and ensure that users can find the information they're looking for. Our work is ongoing, which is why we plan to incorporate more page experience signals going forward and update them on a yearly basis. We hope that the tools and resources we've provided make it easier for you to create great websites, and thereby build a web ecosystem that users love.