The NamesCon domain name auction is now live at GoDaddy Auctions.
You can use the drop down on the popular searches to navigate to the "NamesCon 2020 Auction" listings.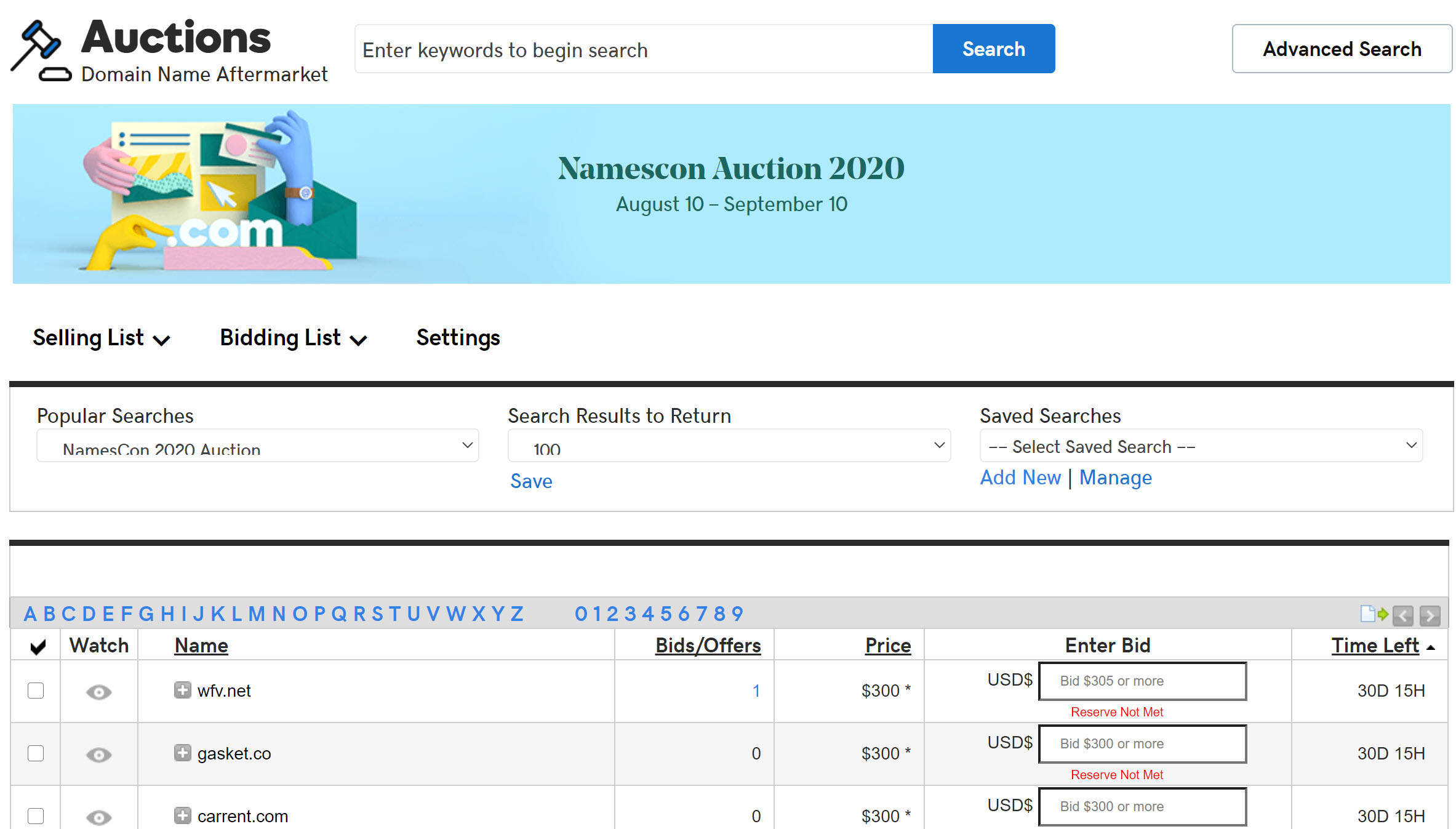 At the time of writing there were 59 domains in the auction. There are more names being listed this week. You can see the reserves if you go into the domain details.
Most domains are .com. There are also a few .net, .org, .co and .tv domains. About 30 domains in the auction are from GoDaddy's NameFind portfolio. I see a couple domains in the auction were registered in 2020 (one less than a month ago) and that just doesn't seem right for a premium auction like this.
You are able to bid on domain names on the GoDaddy Auctions website and on the GoDaddy Investor app.
Pre-bidding began on August 10th, which will determine the final names to be auctioned live. Then, during the final two days of NamesCon Online, the live auction takes place across two one-hour sessions.
The NamesCon Online conference runs from September 9 to September 11 2020.
Here are the 59 domains currently in the auction: (sorted by ascending creation date except for the last 3 domains)
equitiesonline.com
therapists.org
canadian.org
joint.org
dentalschools.com
artschools.com
therapy.org
amistad.com
blockprint.com
surfshops.com
realityshow.com
bridesdress.com
beseech.com
rombiz.com
radd.com
tablets.com
newyorkcolleges.com
ssoa.com
lestrike.com
chapel.net
carrent.com
boardsocks.com
fallplanting.com
stammering.com
ponter.com
privacylawyer.com
zamia.com
overblown.com
customflames.com
wfv.net
workups.com
plasticjewelry.com
getripped.com
hightails.com
emailsearching.com
onlineartschools.com
recharged.com
nursingschoolsonline.com
reefies.com
n8m.com
travelbooked.com
webmarketinggroup.com
presidentialelectionpolls.com
hockeygenie.com
cronz.com
tattoowax.com
helpvoters.com
electionjobs.com
easylaps.com
nowanother.com
funrealm.com
donnys.com
away.org
tradealley.com
magicbotanicals.com
cloudvideo.org
gasket.co
tablets.co
explicit.tv