Nominet, the .UK registry, released the 2019 annual summary of domain name disputes brought before its Dispute Resolution Service (DRS) that handles .UK disputes.
The total number of domain names that were subject to DRS Complaints in 2019 was 801, which represents just 0.007% of the domain names on the register.  Just under half of the complaints (47%) in 2019 resulted in a domain transfer, similar to 2018 by comparison (49%).
Brands such as Facebook Technologies, LLC, WhatsApp, Inc., Pret A Manger (Europe) Limited and Tyrrells Potato Crisps Ltd used the DRS in 2019. Others included Pierre Balmain SA, Groupon Inc, Superdry plc, eBay, Inc., Volvo Trademark Holding Aktiebolag (AB), Goodwood Estate Company Ltd, The Football Association of Wales Trust and Taunton Angling Association.
The year saw a small increase in the number of disputes resolved with the domain name being voluntarily transferred to the Complainant by the Respondent upon receipt of the complaint. There was also a decrease in the number of complaints resolved through mediation, down from 93 cases to 90. Of the complaints made in 2019, three Expert decisions have been appealed, with one appeal ongoing, compared to just one appeal made the previous year. Overall, in response to the end of the Right of Registration period, there was an initial small increase in related disputes, but these have since subsided.
.UK domain name disputes have stayed flat for the past 10 years (ranging from 671 to 728 disputes per year with only exception being 2012 that had 818).

The stats:
In 2019 there were three appeals. Two have been successful in overturning the original decision (one each for No Action and Transfer). One appeal is still ongoing.
The most common industries for Complainants were Retail (10), Food, Beverages & Restaurants (9), Internet (9), Banking & Finance (8), Automotive (6), and Fashion (5).
The year saw cases bought by Complainants from 26 different countries, led by the UK (511) followed by the US (46) and France (21), followed by Spain (6)
Respondents were widely dispersed, coming from 41 different countries in 2019. The UK continues to lead with 585 Respondents, with the US second (47) and China third (12).
The average length of time DRS cases take from being filed to being closed increased slightly from 50 to around 55 days
Cases being resolved by a Summary Decision took on average 62 days, compared to 58 in 2018, whilst Full Decision cases took on average 90 days, compared to 87 in 2018.
The majority of cases (78%) involved .co.uk domains, 17% were .uk domains, 4% were .org.uk, and 0.2% were .me.uk
Court costs avoided in 2018 were over £6.1 million – assuming court and legal fee savings of £15k per complaint that progresses into formal dispute resolution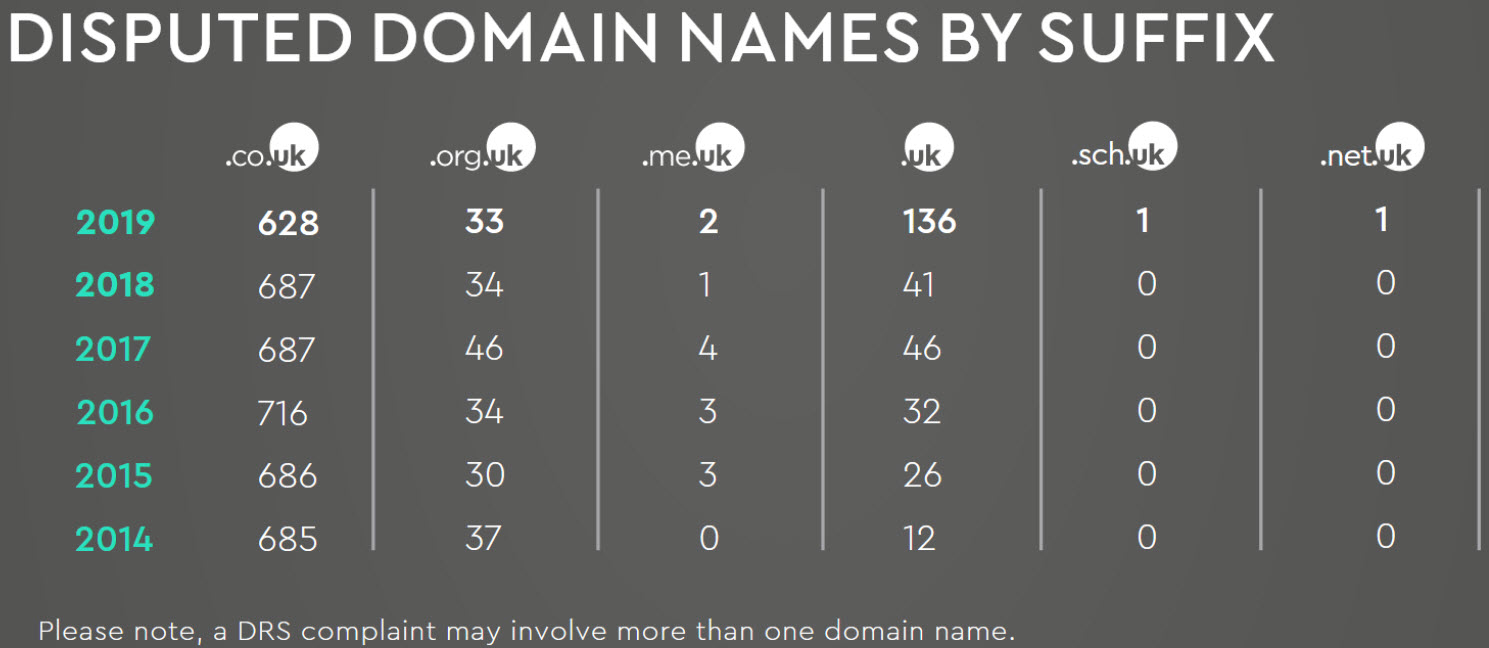 Eleanor Bradley, MD of Registry & Public Benefit at Nominet, says: "Our Dispute Resolution Service is a valuable resource for those .UK customers who find themselves in a dispute about a domain. The robust process provides an efficient and transparent method of resolving these thanks to the many experienced mediators and independent experts who share their expertise to deliver informed and impartial decisions.  We saw a small increase in the number of Expert decisions in 2019, but thanks to the very modest fee they receive for this part of the service compared to what commercial legal fees might be, the DRS has helped save millions in court costs – over £185 million since the DRS began."
Nick Wenban-Smith, General Counsel at Nominet comments: "While the number of disputes accounts for only a very small percentage of the .UK namespace, we are committed to ensuring the DRS makes the daunting nature of a dispute more approachable, so people feel their case can be presented and dealt with in a fair and transparent way. Testament to this was bolstering our list of DRS Experts last year, adding a further nine individuals with subject matter and independent decision making expertise to provide a binding decision on disputes."
"As expected, following the Right of Registration period coming to an end in June, we also saw a small number of names being subject to disputes as some of the more desirable ones became available. Thanks to the DRS we were able to remedy any disputes where some renewals had not been made, and having more Experts to hand has proved useful in that regard too."
.UK case examples:
The complaint was made by eBay Inc and Gumtree.com Limited, and the Respondent provides an online selling platform.  The Respondent claimed that the domain name is derived from a well known 'minced oath' from Yorkshire in the north of England.
The Expert agreed that ebuygumm.co.uk "contains at most a faint allusion to the Complainants' trade marks", but was not the sort of thing that an internet user looking for either eBay Inc or Gumtree.com Limited would enter in error. Outcome: No Action
The Complainant was Pierre Balmain SA, the renowned Paris fashion house.  They had used the DRS in 2012 with regards to balmain.co.uk, with a No Action decision being upheld by an appeal panel.  The balmain.uk domain name was registered 30 seconds after being made available after a Right of Registration reservation expired, and a web site containing sponsored links relating to fashion soon appeared.  This materially distinguished the facts of the cases, with the shorter .uk domain name being awarded to Pierre Balmain SA this time round.
The domain name had been registered by a member of the Taunton Angling Association between 2000 and 2019, when it was cancelled.  As is often the case, it was then re-registered within 24 hours.
Taunton Angling Association then decided that in fact they did want to retain the name. Luckily for them the Respondent only made contact with an offer to sell the domain name after their Response deadline had passed, and a Summary Decision had awarded the transfer.
The Complainant was Groupon Inc, the global e-commerce marketplace.  This domain name was registered within 25 seconds of being made available after a Right of Registration expired. The Expert agreed that the Respondent's use of the domain name constituted unfair disruption of Complainant's business when it was used to redirect internet users to a commercial website selling various beauty, fashion, health, grooming and lifestyle products.
See the full DRS report for 2019 here.
Editor's notes:
The figures quoted in this report sit against a context of around 12 million .UK domain names on the register at the end of 2019
Court costs avoided are assuming court & legal fee savings of £15,000 per complaint that progresses into formal dispute resolution
Nominet established the DRS in 2001 to offer an efficient, transparent method of resolving disputes relating to .UK domain names. The DRS seeks to settle disputes through mediation and, where this is not possible, through an independent expert decision. Nominet does not profit from running the DRS, the fee for decisions is paid to the Expert for their time adjudicating disputes.
To make a complaint through the DRS, you need to have rights (such as a trade mark) in a name which is the same as or similar to the domain name you are concerned about. You also need to prove that the domain name has been registered or used in a manner that has unfairly taken advantage of your rights.
The DRS can usually provide a quicker and cheaper resolution to disputes than going through the courts as this service is based on free, confidential mediation. In the event of deadlock, Complainants can pay to appoint an independent expert from a panel to make a binding adjudication. All decisions are made public via Nominet's website.