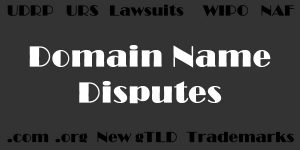 A UDRP complaint for the domain Lotto.com that was bought sometime in 2017 by its current owner for $2.68 million was denied at WIPO.
The owner is Birrell Nigel, Cavour Ltd., Isle of Man, represented by Dentons UKMEA LLP, United Kingdom.
"The Respondent contends that the Complaint fails on all three grounds and should be dismissed. It disputes the Complainant's title to the Trademarks and its entitlement to bring proceedings under any of them. It adds that the word "lotto" is entirely descriptive. It has already used the disputed domain name for well over a year as the URL for a website directed to consumers in the United States of America ("United States"). It purchased the disputed domain name for USD 2.68 million and has invested heavily in developing a website that will trade lawfully in the United States."
I can only describe the UDRP complaint as attempted theft. The owner should have asked for a Reverse Domain Name Highjacking attempt to be found by the 3 member UDRP panel.
The Complainant and wannabe "thief" was Bremer Toto und Lotto GmbH, Germany, represented by CBH Rechtsanwälte, Germany.
The complaint was denied because it failed on the second and third elements of the UDRP:
B. Rights or Legitimate Interests
"The problem in this instance is that the Complainant has not made a prima facie case that the Respondent lacks rights or legitimate interests. It has flatly denied that the Respondent has any rights or legitimate interests in the disputed domain name but it has not explained why. Had it consulted the Wayback machine at "https://web.archive.org/" it would have found (as this Panel has just done) clear evidence that the Respondent was actually using the disputed domain name in association with an active website as recently as mid-2019."
"The Panel also notes that the Respondent has provided tangible evidence relating to its business plans and associated activities undertaken to-date in association with the disputed domain name. The domain name in question has existed for many years, but was only recently acquired by the Respondent for a significant sum (USD 2.68 million) in furtherance of its plan to launch a new online lottery-related business in the United States. The Respondent has provided details of its plans, including certain developmental steps such as the initial investment in the disputed domain name itself, the operation of a short-form website from 2018 to mid-2019, the incorporation of two businesses in New Jersey, United States (including Lotto.com Inc.), and the filing of a lottery license application with the state regulator. These activities took place beginning in October 2017 and continuing into mid-2019. All of these points of evidence support the conclusion that the Respondent has engaged in the preparation of a bona fide offering of services in association with the disputed domain name."
"These factors lead the Panel to find that the Complainant has failed to prove the absence of rights and legitimate interests on the part of the Respondent. Accordingly, the Panel finds that the Complainant has not satisfied the requirements under paragraph 4(a)(ii) of the Policy."
C. Registered and Used in Bad Faith
"Paragraph 4(b) of the Policy lists a number of circumstances which if found to be present shall be evidence of the registration and use of a domain name in bad faith: no evidence has been produced that any of those circumstances applies, nor has any evidence of circumstances that are ejusdem generis the circumstances in paragraph 4(b) of the Policy. The Complainant cannot rely on evidence of passive holding as in the above-referenced Telstra case because the disputed domain name has been put to use. Nor can the Complainant complain that the Respondent's activities would be unlawful in Germany because they are not directed to Germany. Those activities are not unlawful in the Isle of Man where the Respondent is domiciled or in the United States where it intends to do business. Accordingly, the Complainant has not satisfied the requirements under paragraph 4(a)(iii) of the Policy."