In case you missed it last week NamesCon announced that NamesCon Global 2020 has a new date than it was previously announced.
NamesCon 2020 is now scheduled to start on the day it was supposed to end: Wednesday January 29. The conference now runs until Saturday February 1.
There is a venue change as well. The event will now take place at the Omni Austin Hotel Downtown that is the NamesCon 2020 partner. The exhibition hall and most of the event spaces will be in this building. Keynotes, partner workshops, and the live domain auction will take place within a few minute' walk.
Here are a few details about the venue:
The Exhibition Hall will have a wall of windows looking out on Downtown Austin, so you won't feel like you're in some sort of beige purgagory.
Two sets of meeting rooms, in the heart of the action and slightly removed for a bit more quiet.
Beautiful skylit atrium.
Comfortable, well-appointed rooms and suites, where you can work and relax.
Located right closed to the 6th Street entertainment district, for when you want to hit the town. No need for taxis here!
We already mentioned the heated rooftop pool…
The Omni is giving NamesCon a rate of $229 per night, which is $200 off their average rate. These rooms are first come-first served.
I know a lot of people had booked their flights and accommodation for the previous dates. This is a major problem for them.
BTW the conference is now called "NamesCon Global 2020: The Domain Economic Forum".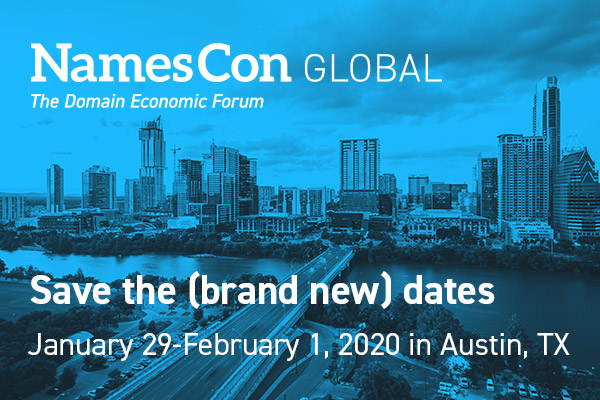 Here is what NamesCon said about the date change:
"We've made a change to the NamesCon Global 2020 format that we know you'll love, which also made it necessary to change the event dates to January 29-February 1. One of the reasons is because we're pretty serious about balancing work and fun: next-level networking is a key part of the NamesCon tradition, and we think you'd agree."
"Our NamesCon Europe 2019 Beach Day was such a raging success that we knew we had to include a dedicated fun and networking day in Austin. Since our program for that day (it's still a surprise) can only be done on a weekend, we've shifted the event dates to January 29-February 1. Wednesday the 29th will be our kickoff day, with Beginner and Expert tracks as well as our opening party. Then we move into two action-packed days of programming, which will of course include the exhibition hall and the famous live domain auction. We'll wrap up the conference with a day of fun and networking "out of the office", so you can continue your conversations and build new relationships in a fresh setting."