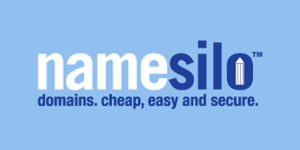 NameSilo announced it has surpassed the 2 million domain milestone. This puts NameSilo in the top 20 of the nearly 3,000 ICANN-accredited registrars in the world.
The registrar has added over 170,000 domains under management and over 950,000 or roughly 90% in the past 12 month.
Namesilo now has 125,000 customers from approximately 160 countries.
NameSilo, that launched in 2010, is a subsidiary of Brisio Innovations Inc. and was acquired by Brisio on August 1, 2018.
"Of the other 18 domain registrars with over 2 million domains under management, NameSilo has reached the milestone faster than most, and notably, it has done so organically and by word-of-mouth, and without a reliance on aggressive promotions, advertising and couponing."
"NameSilo's growth is primarily attributable to providing intuitive domain registration and management tools, responsive and never outsourced customer service provided via email and live chat, technical expertise, best-in-class pricing, and free add-ons that other registrars routinely charge for like WHOIS privacy, ICANN fees, email forwarding, enhanced account security options, parking and more."
Paul Andreola, CEO of Brisio states, "We remain incredibly proud of this accomplishment as it demonstrates that our company is trusted by a substantial number of people, companies and organizations for the management and safeguard of their domains. We continue to increase the number of domains registered with us at an almost unparalleled rate via both registration of new domains and transfer of existing domains from other registrars. We would like to thank our customers and partners for helping us achieve this success. We remain committed to offering best-in-class products and services, timely and efficient customer support and consistently low every day and transparent pricing."
"Since NameSilo's launch in 2010, the company has established itself as one of the most-trusted and secure registrars catering to an array of different customers.  Since being acquired by Brisio on August 1, 2018, NameSilo has added over 170,000 domains under management and over 950,000 or roughly 90% in the past 12 months making it one of the 5 fastest growing registrars in the world based on statistics made available from ICANN. This continues an 8-year run of being among the fastest-growing registrars, and our company's growth continues to accelerate."
"Like all registrars, NameSilo's customers can both register new domains and transfer domains from other registrars. As a measure of value delivered, NameSilo has transferred in over 593,000 domains from other registrars, while fewer than 66,000 have transferred out from NameSilo to other registrars. This 9:1 ratio helps verify that NameSilo is preferred and that it maintains exceedingly high customer retention."
"NameSilo customers know that they will not be shown one price to 'get in the door' and another when it comes time to renew. They've come to appreciate that we never play that game, that we can be counted upon and that their domains are secure," added Kristaps Ronka, NameSilo CEO. "It is a privilege to be embraced by consumers and rewarded with a level of loyalty that continues to accelerate growth. We will continue to listen to our customers and work hard to respond to their feedback and improve upon what we offer today."
"Among the tools and services NameSilo has added over the years are things such as many top-level domains, one-click technical integration to third-party companies for end users, email services and detailed reporting for small businesses, and a cadre of free investor tools and a low-commission full-service domain Marketplace for domain professionals. No matter who you are, or what your business, NameSilo offers everything you need for the easy management of your domains, and at consistently low everyday prices without having to hunt down coupons or wait for special offers."
"In an industry where people have grown accustomed to misleading pricing tactics, bait-and-switch offers, security breaches and confusing interfaces, NameSilo's transparent approach continues to spur rapid growth and we expect to become an even larger force in the domain registration market during the years to come," added Ronka.