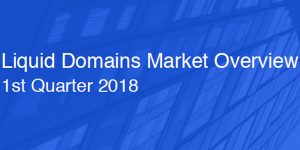 Escrow.com reported nearly $20m in transactions in the 1st quarter of 2018 suggesting a strong start for domain investors in 2018.
GGRG Brokerage Consulting and Giuseppe Graziano published the 1st quarter of 2018 Liquid Domains Market Overview partnering with Escrow.com and Estibot's parent company Intelium and ShortNames.com.
This report is focused on 2018 Q1 and presents key statistics of the domains that are considered liquid in the domain name aftermarket. There are separate sections for each liquid domain name category: LL.com, LLL.com, LLLL.com / NN.com, NNN.com, NNNN.com, NNNNN.com / CC.com, CCC.com.
The report provides the percentage of domain name ownership of major regions (US, Europe, China, Rest Of the World, Private), development percentage, turnover, public sales volume, Escrow.com sales volume.
You can download the complete 18-page report here: http://ggrg.com/industry-report/
Here are some of the most interesting parts of Giuseppe Graziano's executive summary:
DEVELOPMENT INDEX AND OWNERSHIP DATA
2018 starts with a continuation of the trends observed in our past reports: China continues to gain market share, especially on the 5Ns front where Chinese registrants added almost 4,000 domains, bringing up the total domain count up to almost 200,000 or 32.12% of the total market.
The US also gained 1% of market share, ranking as second behind China with a total of 18.54%. Europe and the rest of the world continued to hold a stable market share of around 7.5%, while domains under privacy grew slightly to 21.67%. There seems to be: 1) a positive correlation between the average domain value and domain privacy, and 2) an inverse correlation between domain privacy and the development index. In other words, the more valuable a domain is, the more likely it is that it will be under privacy if it is not developed. This translates to record privacy numbers for for Tier 1 categories like 2Ns and 3Ns, with nearly 50% of domain names under privacy registration.
SALES DATA
2Ls .com domains registered a record $6M in escrow.com transactions, by far the best result since the publication of the report. 4Ls kept a consistent $4.8M in turnover, followed by another strong quarter for the 3Ls at $3.5M. 3Ns and 4Ns also posted good quarters, respectively with $2.8M and $1.3M in escrow.com sales. While escrow.com did not record any 2Ns transactions, the other categories (5Ns, 2Cs and 3Cs) posted an aggregate of almost $1M, respectively at $225k, $143k and $562k. The total amount of sales reported by ShortNames.com was $7.7M, with 4,108
transactions and 0.67% turnover.
FORECAST
The key question for investors is when to buy batches of domain names at floor prices, as opposed to cherry picking ones with the highest end
user potential, or selling their existing inventory altogether. The mix of positive signals (high sales volume for valuable categories) and negative
signals (constant descent of 5th percentile values for the least valuable categories), can only mean that investors should continue looking at
fewer but higher quality domains.
You can download the complete 18-page report here: http://ggrg.com/industry-report/