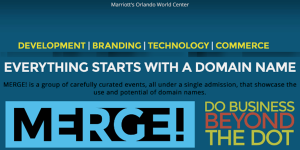 Merge! has announced the preliminary conference agenda for the upcoming show in Orlando.
Not many details were shared but you can get a sense on how the agenda will be like and this way you may schedule your trip to Orlando.
Merge has great plans for September 15-18, 2018 in Orlando with multiple shows under one admission.
Merge intents to focus on domains, cryptocurrency, blockchain and hosting.
Tickets now cost $379 and go up to $499 on July 20.
September 13 • Thursday

 12:00pm – 4:00pm
Thursday Precon Early Afternoon Group Meeting

Hospitality Suite

  4:00pm – 8:00pm
Thursday Precon Late Afternoon Group Meeting

Hospitality Suite

  8:00pm – 11:30pm
Hospitality Suite Networking

Hospitality Suite

September 14 • Friday

 12:00pm – 4:00pm
Friday Precon Early Afternoon Group Meeting

Hospitality Suite

  4:00pm – 8:00pm
Friday Precon Late Afternoon Group Meeting

Hospitality Suite

  5:30pm – 8:30pm
Welcome Dinners

Various – Disney Springs

  8:00pm – 11:30pm
Hospitality Suite Networking

Hospitality Suite

September 15 • Saturday

  7:00am – 10:00am
Setup

TBA

 11:00am – 5:00pm
Registration Desk Open

TBA

 12:00pm – 1:00pm
Welcome Ceremony

TBA

  1:00pm – 2:00pm
Facilitated Networking Exercise

Salon 4

  2:00pm – 3:00pm
Keynote or Plenary

TBA

  3:00pm – 4:00pm
BREAK

TBA

  4:00pm – 5:00pm
TBD Session / Training / Expert Workshop

TBA

  5:00pm – 6:00pm
TBD Session / Training / Expert Workshop

TBA

  8:00pm – 11:30pm
Fabulous Hospitality Suite Networking

Hospitality Suite

Sponsors: Fabulous

September 16 • Sunday

 11:00am – 5:00pm
Registration Desk Open

TBA

  1:00pm – 1:45pm
Keynote Speaker or Plenary

TBA

  2:00pm – 3:00pm
TBD Session / Training / Expert Workshop

TBA

  3:00pm – 4:00pm
BREAK

TBA

  4:00pm – 5:00pm
TBD Session / Training / Expert Workshop

TBA

  5:00pm – 6:00pm
TBD Session / Training / Expert Workshop

TBA

  8:00pm – 11:30pm
Fabulous Hospitality Suite Networking

Hospitality Suite

Sponsors: Fabulous

September 17 • Monday

 10:00am – 11:00am
Keynote Speaker or Plenary

TBA

 11:00am – 5:00pm
Registration Desk Open

TBA

  1:00pm – 2:00pm
TBD Session / Training / Expert Workshop

TBA

  2:00pm – 3:00pm
TBD Session / Training / Expert Workshop

TBA

  3:00pm – 4:00pm
BREAK

TBA

  4:00pm – 5:00pm
TBD Session / Training / Expert Workshop

TBA

  5:00pm – 6:00pm
TBD Session / Training / Expert Workshop

TBA

  9:30pm – 1:00am
Fabulous Hospitality Suite Networking

Hospitality Suite

Sponsors: Fabulous

September 18 • Tuesday

 10:00am – 11:00am
Keynote Speaker or Plenary

TBA

 11:00am – 5:00pm
Registration Desk Open

TBA

  1:00pm – 2:00pm
TBD Session / Training / Expert Workshop

TBA

  2:00pm – 3:00pm
TBD Session / Training / Expert Workshop

TBA

  3:00pm – 4:00pm
BREAK

TBA

  4:00pm – 5:00pm
TBD Session / Training / Expert Workshop

TBA

  4:30pm – 6:00pm
Executive Summary

TBA

  5:00pm – 6:00pm
TBD Session / Training / Expert Workshop

TBA

  6:30pm – 9:30pm
Closing Cocktail Reception

Various – Disney Springs

  8:00pm – 11:30pm
Hospitality Suite Networking

Hospitality Suite

September 19 • Wednesday

 11:00am – 1:00pm
Post MERGE Brunches