This is another hit to the Uniregistry New gTLD extensions. Tucows/OpenSRS will stop offering 9 of the Uniregistry extensions on September 8th, 2017 because of price increases.
Registrants will not be able to register or renew these 9 extensions after September 8. But they can renew them now for up to 10 years.
OpenSRS is suggesting to its resellers to proactively encourage their customers to consider alternative TLDs.
OpenSRS is the domain name reseller program of Tucows. I assume that the same changes will apply to Hover that is the retail registrar. And of course this suspension will probably spread to Enom that was recently acquired by Tucows.
This is another huge blow to Uniregistry after the GoDaddy suspended all Uniregistry extensions after the price increases were announced and then reinstated some of the extensions. GoDaddy seems to be supporting all Uniregistry extensions now including .click, .pics, .sexy, .christmas and .tattoo.
All this situation seems a bit strange as non of registrars is talking about .cars, .car and .auto that are also Uniregistry extensions (jointly with the .XYZ registry) that are already selling at about $2,500 per year retail. This price could easily jump to $5,000 or $10,000 per year in the blink of an eye.
So Tucows and OpenSRS will not longer support 9 Uniregistry domain name extensions as of September 8th, 2017:
.audio
.juegos
.diet
.hiphop
.flowers
.guitars
.hosting
.property
.blackfriday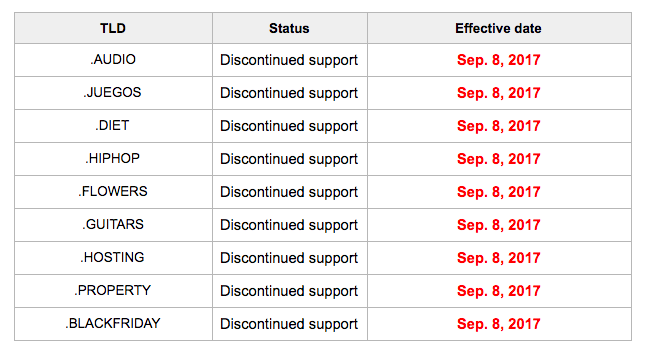 "How will this affect me?
You'll have to adjust your pricing accordingly for the TLDs we are continuing to offer.
For to-be-discontinued domains, all current registrations will remain active until their expiry date. During this time, you may continue to manage the DNS and contact records for these domains as you would normally. However, you will no longer be able to register/renew these names for your customers, as of September 8th, 2017."
Tucows will continue to support the following Uniregistry TLDs but with a price increases:
.click
.link
.help
.pics
.sexy
.christmas
.tattoo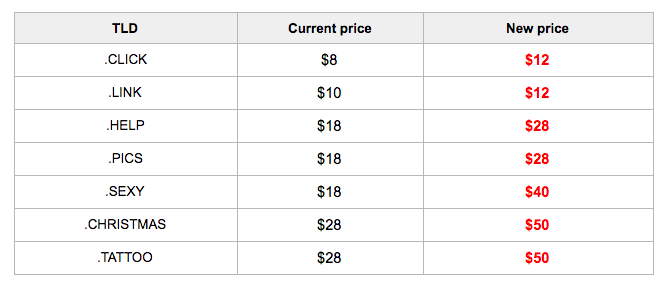 This is how Tucows explained this move:
"Uniregistry has announced a number of TLD price increases, taking effect on September 8th, 2017. This decision has caused concern in the domain community. While the registry no doubt has its reasons, the severity of the increases is unanticipated and has the potential to undermine consumer trust in the new gTLD program.
We weren't happy to hear the news but knew we had to take immediate action. Our primary concern was to determine how the changes would impact you and your customers, and what adjustments could be made to minimize the effects. "
"We will no longer support the TLDs that have the potential to be disruptive to your business
What do we mean by "disruptive to your business"? The decision to discontinue support for these select TLDs was made to protect you and your customers from unknowingly overpaying in a price range well beyond $100 per year."
You can follow how this whole Uniregistry story unfolded in these 4 posts with almost 250 comments:
Frank Schilling just killed the New gTLD domain name program (Warning!)
The real percentages of the upcoming Uniregistry domain extension price increases (5% to 3115%)
The Uniregistry disaster continues: registrar increases domain retail prices by 62% to 75%
Too little, too late: Uniregistry will offer price protection on 9 domain extensions