(This is a guest post from Matt Gill, owner of Developed.NYC.)
When I first came to New York one thing I noticed was how people love to wear the name of their city on their heads, chests, behinds and even on their feet. To be clear I mean regular New Yorkers, not tourists. I just had a flashback to the Adidas Adicolor Staten Islands I was so proud of – fresh!

Adidas Adicolor kicks – A design for each NYC borough.
Fast forward to October 2014 and the launch of .NYC seemed like a nobrainer. In my mind not all gTLDs are created equal and .NYC just clicked.
Firstly, .NYC is short and equal in size to .com which felt natural and it had a brand more fiercely loved and protected than .com. Secondly, nexus requirements helped to keep registrations local and gave businesses a great opportunity to secure their name as a .NYC domain or to rebrand their website with a name they always wanted but could never secure as a .com without much deeper pockets.
An added draw for me is I teach at a high school and am used to my "@schools.nyc.gov" email address and daily work websites so .NYC feels familiar as it probably does to city workers from other agencies.

One of the original ads before the launch of .NYC in October 2014.
With the City of New York behind the application for the TLD this also gave registrants the added security that its growth and success would be supported no matter which company was chosen to manage the technical part of registry services. The City of New York chose Neustar to provide registry services and I feel that the first 2.5 years have seen success with 75,000 domains registered and my daily sightings of new .NYC sites around the city, but I sense that .NYC hasn't yet broken through to the masses (and maybe 2.5 years just isn't enough time).

There was excitement in the first landrush auctions which was shown in the auction results. Since that time, there have been other exciting periods for investors and end users with the release of the collision names and previously reserved premium names as well as the 'living' and 'fashion' themed auctions.
Each time I see .NYC domain names used in the subway, on the radio, bill boards and even more often just casually on storefronts, I'm excited and encouraged. When I occasionally chat with business owners about their .NYC website they describe a sense of pride that their domain has a clear affinity with the city and some even believe that there is a benefit to local marketing efforts including SEO – I think it's too early to know.
In March 2017, we're now at a pivotal moment where I believe the City of New York, Neustar or even an outside agency must be tasked with creating a clearly defined plan to continue building the excitement behind .NYC and promoting it to locally focused businesses and organizations so they adopt a new home on the web.
For many businesses, it's that they simply don't know about the opportunity: they wear the NYC cap and NYC t-shirt but they don't know the steps to put on a .NYC website. For others, they don't have a feel for the state of .NYC and are taking a wait and see approach.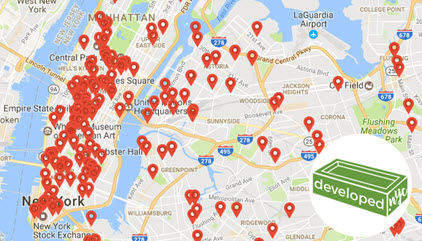 A few weeks ago I created Developed.NYC and started tweeting with @developednyc to show the state of .NYC by highlighting the growth of the NYC domainscape. The site is a simple directory and map showing pushpins across the city of businesses who have embraced .NYC and developed websites. It's another no brainer and I'm not sure why the City of New York or Neustar didn't create such a tool.
Registrations are one metric but potential registrants have to see where these names are actually being used and developed into full websites to be converted.
In the few short weeks since putting Developed.NYC together I'm inspired by what I've found: cafes, bars, delis, photographers, ad agencies, politicians, gyms, festivals, charities, stores, apartments, real estate agents, schools, colleges, bands, museums… the list goes on and on. Every imaginable business and organization is represented with a .NYC website.
This is exciting and it signals the success of .NYC. While I remain an optimistic .NYC developer and investor, I'm hopeful that the City of New York, Neustar or an external agency will craft a message promoting .NYC ownership and what it demostrates to build on a .NYC: city pride, prestige and affinity. This is the story that needs to be told and shared.