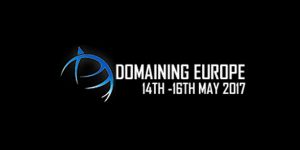 Domaining Europe 2017, the 9th Domaining Europe Conference, is just 3 months away taking place from the 14th to 16th of May in Berlin, Germany. The event venue is going to be Steigenberger Hotel Am Kanzleramt in Berlin, Germany.

Dietmar Stefitz, the Domaining Europe founder and event organizer, offered an update on the upcoming show and some more details.

The show will have 7 panels and 12 individual presentations from industry experts.
Braden Pollock will be again the Moderator for Domaining Europe 2017.
This time around there will be some limited exhibition space available for the show's sponsors. These are the current sponsors that will also be present at the exhibition space in the Foyer: Godaddy, SEDO, ParkingCrew, Nominet, Protected Parking, LegalBrandMarketing.
Monday the 15th of May is entirely dedicated to monetizing and marketing, with an exceptional presentation from renowned Mathematician Antonio Villamarin, who developed an algorithm which buys and sells domains on autopilot.
The Healthy Domain Report panel is going to look at the present state of the domaining industry.
There will also be a presentation from Mark Kychma from DNPRIC.es that will bring news from the Aftermarket.
On Monday evening the event Platinum Sponsor Verisign is hosting the Gala Dinner.
Tuesday 16th is dedicated to New GTLD's , Geo TLD's and ccTLD's and if investments in these niches are profitable.
A panel about Internet Governance with the cooperation of ECO.de and ICANN will explore the imminent future and risks.
On Tuesday afternoon there will be a domain name auction organized by Undeveloped.com.
Here is the preliminary agenda:
Sunday 14th of May
17.00 to 20.00 Networking and Exhibition in the Foyer of the Hotel
Monday 15th of May
Morning sessions start at 9.00 until 12.00
Monetization
Parking-Development-Landing Pages
Co-operation – New Developments
Afternoon Session starts at 14.00 until 18.00
Aftermarket
Brokers- Marketplaces- Tendencies- Auctions- Direct-Sales
Promotions/Branding
20.00 – Gala Dinner
Tuesday 16th of May
Morning Session 09.00 to 12.00
Legal – New GTLD's Brand TLD's
Afternoon Sessions 14.00 to 18.00
New tendencies – Startups – Major Global changes China/India
18:00 – Auction
Tickets are now available for the Price of  395.00 € + Taxes, which include complete catering during the event.
You can see all event details here: www.domainingeurope.com
Domaining Europe has negotiated special room prices which can be booked using the link on the Domaining Europe website.