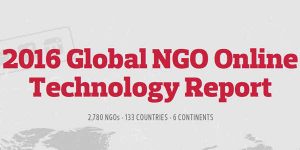 The Public Interest Registry and the Nonprofit Tech for Good published the report of a research project: "2016 Global NGO Online Technology Report".
This is an inaugural effort to gain a better understanding of how non-governmental organizations (NGOs) worldwide use online technology to communicate with their supporters and donors.
The 2016 Global NGO Online Technology Report is based upon the survey results of 2,780 NGOs from Africa, Asia, Australia & Oceania, Europe, North America, and South America. The survey was conducted and promoted entirely online – primarily through email and on social media – from September 1, 2015 through October 31, 2015.
The data gathered from surveying 2,780 NGOs from 133 countries. The top five responders of the 2015 Global NGO Online Technology Survey were NGOs from the United States, Canada, India, the United Kingdom, and Australia.
SUMMARY OF FINDINGS
92% of NGOs worldwide have a website.
70% use the .ORG domain. Two percent use .NGO. Nine percent use .COM. Two percent use .NET. 18% use other domains, predominately country code domains.
46% regularly publish a blog. 75% regularly send email updates to donors and supporters. Small NGOs have an average of 6,035 subscribers. Medium NGOs have 55,596. Large have 357,714.
75% accept online donations. Payment methods accepted include credit cards (82%), PayPal (52%), direct debit (47%), mobile text (6%), and digital wallets (3%).
95% have a Facebook Page. Small NGOs have an average of 5,723 likes. Medium NGOs have 28,337. Large NGOs have 127,930.
83% have a Twitter Profile. Small NGOs have an average of 3,332 followers. Medium NGOs have 13,680. Large NGOs have 66,167.
40% have an Instagram Profile. Small NGOs have an average of 504 followers. Medium NGOs have 2,676. Large NGOs have 10,548.
Other social networks used by NGOs worldwide are LinkedIn (52%), YouTube (51%), Google+ (30%), Pinterest (22%), Tumblr (6%), and Snapchat (2%).
32% of NGOs worldwide assign the responsibility of social media management to a communications staff person. 11% have a full-time or part-time social media manager. 15% depend upon volunteers. The remaining 42% assign the responsibility to development, program, administrative, and/or executive staff.
78% agree that social media is effective for online fundraising.
To download the complete report click here.