Domaining Europe 2016 continued on Tuesday with the second and final day that was the "NOT COM DAY" powered by Radix. (Domaining Europe 2016 – Day 1 (Summary & Photos))
The day started with Ingrid Baele, Vice President of Philips, explaining why and how Philips NV applied and got the .philips new extension. The company sees the new gTLD mainly as a tool against counterfeiting. In Philips domain names are considered as intellectual property together with trademarks, patents, copyright, etc.
Philips owns about 3,350 domain names in .com, ccTLDs and new gTLDs. Most of their domain names are redirecting to existing websites with dedicated content. If there is no specific content that relates to the domain name then the domain name is not redirected.
.Philips is currently redirecting to philips.com. Philips has no plans to move their main website away from the philips.com domain name. .Philips will be used for some campaigns in the future.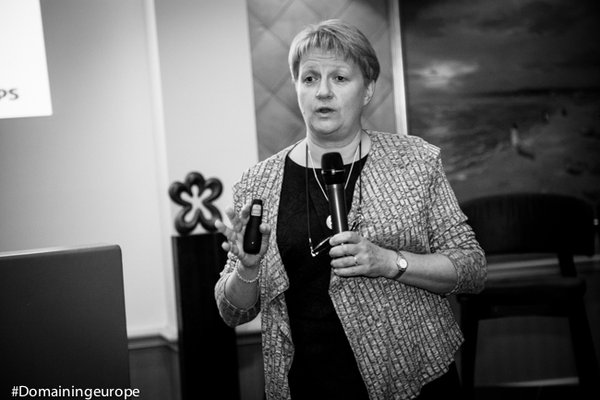 Jeff Sass, CMO .CLUB, gave a great presentation called "Haters Gonna Hate… But The New Domains Are Great". He talked about the New gTLD program and its success in the past 2 years. He gave examples of .brand usage as well as brands using new domains like .club. Jeff talked about the new extensions acquired by several big companies like .app, .shop and .blog for millions of dollars.
.Club currently has about 780,000 registered domains from about 140,000 different registrants. China accounts of more than half of all .club domain name registrations. 2,500 of premium reserved .club domains name are going to be released on June 16th. . Club has a new domain name auction starting in a few days.
Jeff also talked about the Domain Name Association (DNA) and the work it does for the domain name community.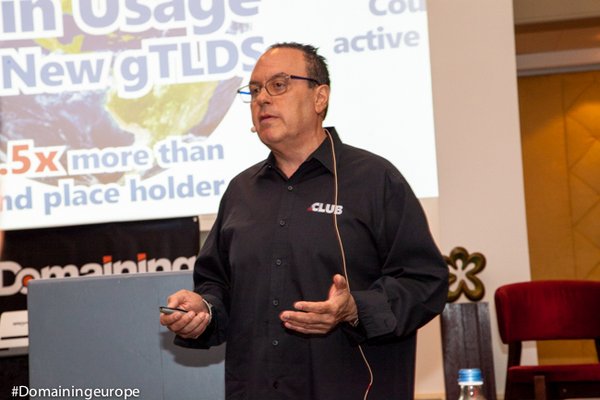 Karn Jajoo, of Radix, talked about the company's "New Domain Extensions in Action". Karn talked about the success of the Radix extensions with domain names like CES.tech (Consumer Technology Association) that were registered and are used organically and the upcoming .store extension. Radix has more than 1 million domain names registered in total.
Radix had a flier sharing some of Radix's latest top domain name sales:
market.space $6,000/year
win.tech $15,000/year
top.host $15,000/year
mattress.online $13,000/year
fuel.tech $6,499/year
now.online $6,000/year
gay.space $6,999/year
autoinsurance.website $3,000/year
smart.space $6,999/year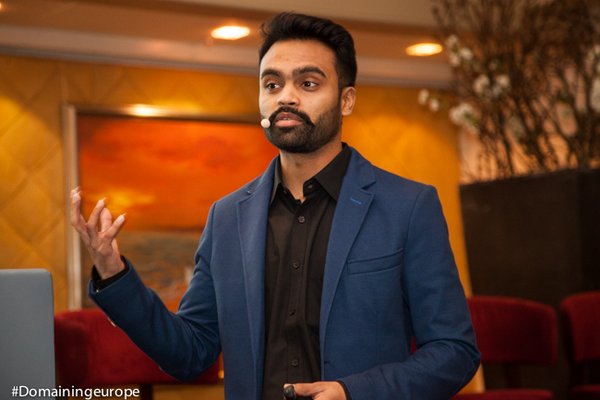 Up next Nacho Amadoz and Frédéric Guillemaut talked about "Roll-out of the Brand TLDs: Next steps". 596 .brands are now delegated. 145 of these registries don't own the corresponding .com domain name.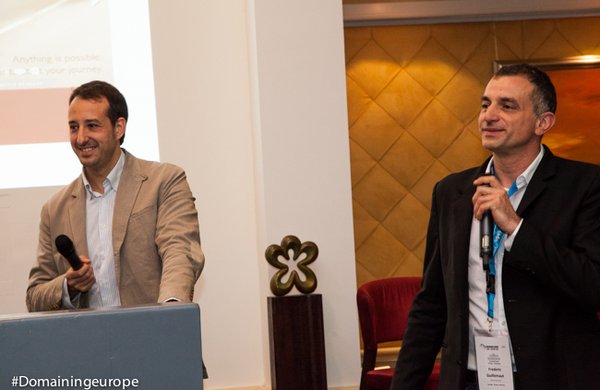 Jose Vicente Gomar, the CEO and founder of exagons.com, gave a presentation on how to "Network with the visitors to your website by using a mobile forum". Jose made the Domaining Europe 2016 mobile app.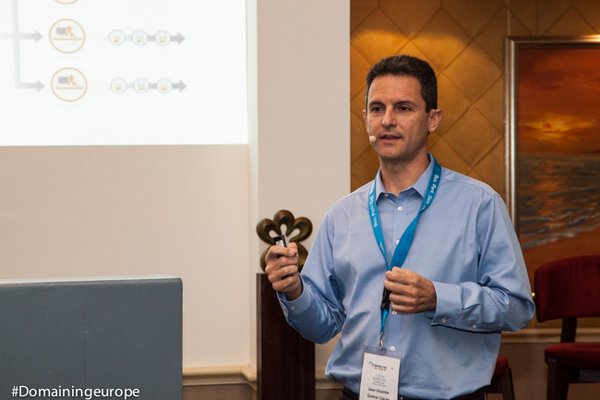 Rolf Larsen, CEO of .Global, talked about the "The .global project". The .Global registry has been cash flow positive since October 2015. .Global has 8,000 reserved premium domain names. 225 domains have been sold so far for more than $500,000 wholesale. Average retail price is about $3,500 USD.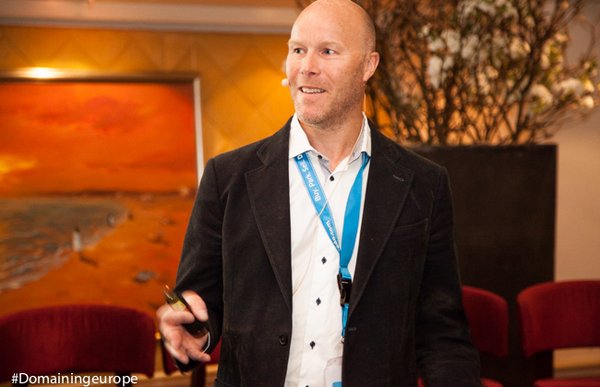 Then it was time for the 2 hour lunch break.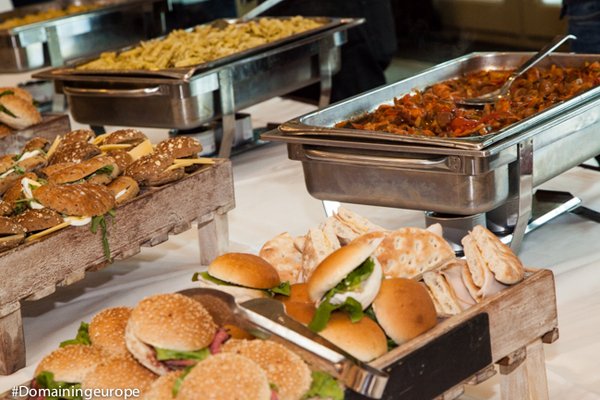 Ramon Rautenstrauch, gave a presentation on "NewTLD's: A top Online Marketing Opportunity". He talked about some of the most dangerous TLDs in terms of malware and spam that are .review, .country, .kim, .science, .party and several others. Ramon explained how you can rank high in Google search using a New gTLD domain name. You can see the slides of the presentation here.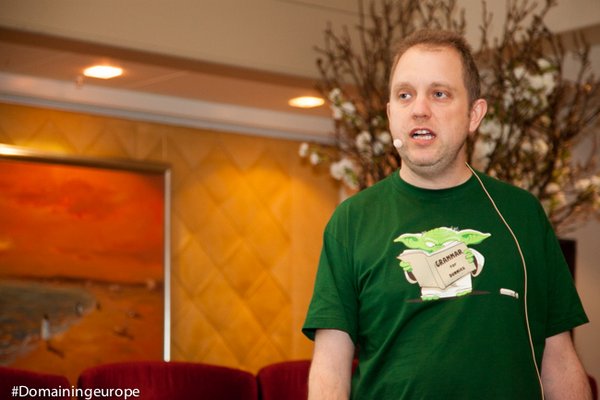 Jean Jaques Sahel, Vice President in Europe at ICANN, and Stéphane Van Gelder, Executive Vice President at StartingDot, talked about "Why you should participate in ICANN".
Then it was time for the NEW GTLD's and CCTLD's panel with:
(Unfortunately I forgot to take a picture and I can't find one at
d-e.space
and I don't remember the name of the Logic Boxes representative. Sorry.)
Chris Lahatte
, the ICANN Ombudsman, gave a brief presentation about what he does and how people can contact him.
Undeveloped.com
held a special charity auction after the end of the second day of Domaining Europe to benefit
inara.org
. Domaining Europe raised about 4,000 Euro to enable INARA to help pay for urgent medical treatment for Syrian refugee children. All the domains in the auction were donated by their current owners or the respective registry to benefit the charity.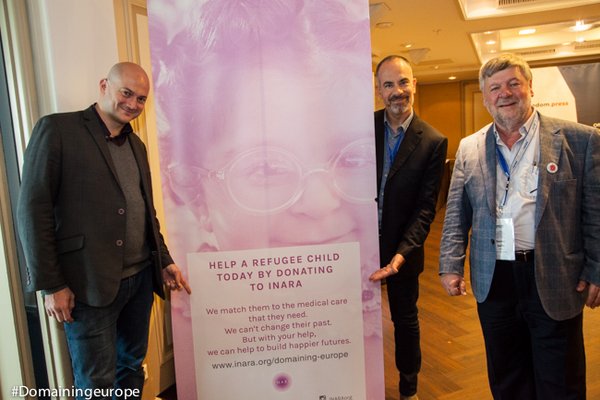 These are the results of the charity domain name auction:
trending.global (offered by the .Global registry) 300 Euro
holland.photos (offered by Sold.Domains) 250 Euro
friendship.club (offered by the .Club registry) 1,100 Euro
dadel.nl 250 Euro
medicine.bio 150 Euro
domainname.space 400 Euro (offered by Radix)
newworld.cam (offered by the .CAM registry to be released in October) 250 Euro
beekeepers.buzz (offered by the .BUZZ registry) 100 Euro
JuiceSprayer.com (offered by Undeveloped.com) 100 Euro
LaserLevel.net 50 Euro
uWorkers.com 100 Euro
StockBuyer.nl 100 Euro
181.nl 281 Euro
JQN.nl 250 Euro
PatchworkMania.com 100 Euro
(Some of the prices might be 50 or 100 Euro higher. It was difficult for me to follow the auction results. Sorry. Corrections are welcome.)
Undeveloped.com is running a premium domain name auction that ends in a few days. See the complete list of the domain names here.
A cocktail party followed the charity domain name auction.
And here are a few photos from Monday's Verisign sponsored dinner.
Thank you Dietmar for a wonderful Domaining Europe 2016 and Braden for moderating the event. See you all next year, probably in Berlin, Germany. Stay tuned for another announcement about a meeting in October somewhere sunny in south Europe…
You can read about Domaining Europe 2016 – Day 1 (Summary & Photos) here.