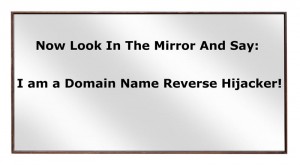 I got an inquiry from a guy that went from offering $10 to threateting with a UDRP, then offering $100 and finally saying he will get a .int domain name  instead!
The inquiry was for a 3-letter .org domain name. It was one of these inquiries you dream of getting (NOT!): the ignorant cheapskate.
It all started like a common inquiry from

the United Kingdom, "Please quote for ***.org" together with a significant offer of $10 or about 6,75 GBP and a "thank you.".
A "thank you" that wasn't meant to be repeated again in the conversation.
My €10000 Euro quote was responded with this:
"I don't think so. Will file a complaint with ICANN in due course."
I responded:
"You can file anything you want, just so you know we always counter sue thieves."
His reply:
":)
Cybersquatting is not cool but whatever, dude.
https://www.icann.org/resources/pages/filing-udrp-2013-05-21-en"
My response:
"You have no idea what cybersquatting is MATE."
His reply:
"Yes I do and you're doing it, Konstantinos.
Like I say, I will file that complaint in due course. I'm not bluffing."
My reply:
"Dear *******,
let me educate you a bit because I see you are ignorant.
You need 3+ things to get this domain:
1) you need to have a trademark, which you don't have
2) trademark needs to be registered before I got the domain
3) I must infringe on that trademark, which I don't
etc.
Now check to see what reverse domain name hijacking is or just look at the mirror."
His response:
"$100. Final offer because time is precious and I'd prefer to avoid a legal dispute. I don't need this, can run our xsg stuff through another domain.
Feel free to go wild gobbling them all up – will just drop it as a subdomain somewhere else.
What an exciting profession you've chosen."
My reply:
"We don't negotiate with thieves.
You have no idea what I do."
His reply:
"I have no interest in continuing this conversation. I don't care what you do. Putting in an application for ***.int instead as you're a pain in the ass. Yeah, gotta be inter-govermental to get that. Watch me."
My final response:
"No. I don't care what YOU do.
You are trying to steal my domain so I am a pain in the ass? lol
Yeah I am watching because you are not getting ***.int. Not even in a thousand years.
My god, you truly know nothing.
https://www.iana.org/domains/int"
So he was actually a cheapskate that tried to extort the domain from me by threatening legal action, made a couple of cheap offers and finally implied that he will commit some kind of fraud to get a .int domain name because he clearly is a company and not an inter-govermental organization. Simply pathetic.