Verisign, the .com and .net registry, published a post called "What's Really New in the New gTLD Space?" in its blog. It has some interesting stats in it although some are not so accurate.
Here are some quotes and my comments: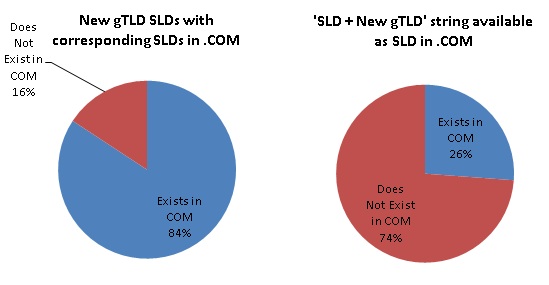 "I looked at comparing SLDs in new gTLDS with SLDs in .COM. The results show that a significant majority (~84%) of the SLD strings being registered in the new gTLDs are also registered in .COM."
Most of the registered New gTLDs probably have a lot of duplicates in .com. A large percentage of top 500 or 1000 keywords in search results are probably registered in all New gTLDs and of course so are all the brands that are trying to protect their mark in New gTLDs. This means that the 16% of not registered domains in .com is higher if you take out the duplicates.
"However, there are 521,834 new gTLD domain names (493,563 unique SLD strings, or 16% of all new gTLD SLDs) that are registered in new gTLDs but not in .COM. "
The duplicates here are not so many as these are obscure and probably worthless domains that some may have been given out for free just to inflate registrations numbers. But what someone has to admit is that people register domains that don't make any sense (even to the people registering them) everyday even in .com.
"Next, I looked at whether the combination of the SLD and new gTLD string is available as a SLD in .COM –e.g. Andy.NewgTLD as AndyNewgTLD.COM.  As can be seen in the second pie chart, when the new gTLD is combined with the SLD, nearly 75% of the names registered in new gTLDs are available in .COM today."
I have pointed out this problem many times but some people seem to disregard it. A large percentage of these 75% are worthless and have no purpose. I have written about the "65% .club domains from day 1 are not registered in .com" and that "71% .com from corresponding sunrise new gTLDs not registered – Many trademark.newgtld combinations make no sense."
"I proceeded to explore which new gTLDs are the home of new SLDs that don't exist in .COM?
For starters, a few gTLDs seem to have a disproportionate number of these strings.  The bar chart shows the top new gTLDs that have "distinct" new gTLD names along with the percentage of their zone that is in effect now "distinct" from .COM:"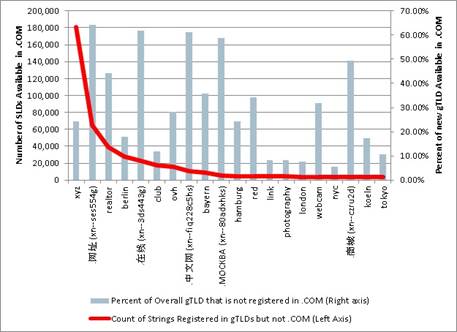 "One interesting takeaway is that the IDN TLDs all skew higher in terms of the portion of their base that is "distinct".  Intuitively, it seems that these may be an area where broader internationalization in new gTLDs help the domains make sense (i.e., IDN.IDN)."
Of course IDNs skew the results because I think that mixed domains, e.g. IDN.com, don't work good together and no one is buying them. IDN.IDN domains on the other hard make sense.
You can also see that the 10 top New gTLD in terms of domains not registered in .com are either IDNs, that makes sense, or extensions that offered or forced a lot of free domains.
"Using a domain tokenization algorithm I have written that identifies domains that are made up of exclusively English keywords, 153,316 (31%) of the SLDs registered in new gTLDs that are available in .COM are keyword exclusive domains.  A few example strings that were available in .COM at the time of writing include: pvcbusiness, emailinvention or searchcustomerservicejobs."
While researching for New gTLDs I found myself buying a few available .com. Start buying.
"I also observed that it is possible that end users and / or applications are confused using the new gTLDs and are trying to reach the .COM domains in error.  I observed this by looking at DNS requests for the new gTLD strings that are available in .COM.  When observing the DNS requests for the string in .COM, I found that for more than 20 thousand strings they began being requested as .COM strings only after the new gTLD string was registered. While this is an opportunity for applicants that may wish to acquire the corresponding SLDs within .COM, it also further illustrates the universal acceptance challenges that continue to exist with new gTLDs."
I made a poll about this confusion. See the results here.
The bottom line is that you should be careful what New gTLDs you are buying for your business and as a domain investor. You may be buying a domain where the .com is available. While there is nothing wrong with buying the New gTLD you should probably also get the .com as well and avoid any headaches. For IDN domains it is a whole different story. IDNs don't go so well with .com. Domain investors can't expect to get good money on a domain that is available in .com or it is sold for $600. Everybody should make some research before buying like we should be doing with everything, anyway.
And yes there are some good .com domains still available.