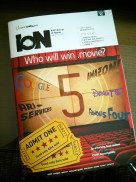 IoN Magazine (Standing for 'Internet of Names') is a new magazine dedicated to the domain name system industry. It provides the latest news, views, reviews, a quintessential guide to ICANN conferences – and occasionally hopes to amuse.
The first issue was distributed at ICANN 50 in London. The latest, 2nd issue, is available for free at ICANN 51 in Los Angeles or you can read the online virtual edition.
The magazine is managed and published by DotAsia.
Latest articles include an Overview of ICANN 51 and a food guide of Los Angeles.